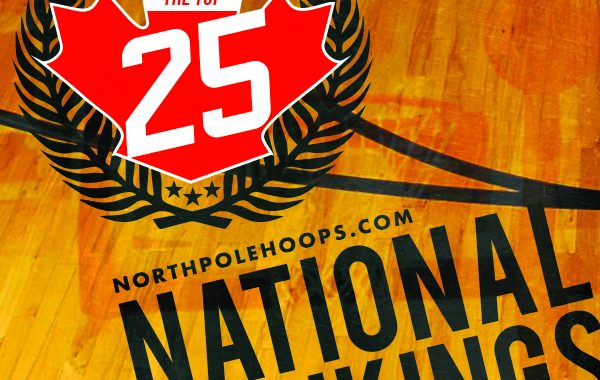 Canadian National HS Rankings #NPHTop25 Preseason 2014-2015
The high school basketball season is HERE, and you know what that means right?!
The North Pole Hoops Top 25 National Team Rankings are back! #NPHTop25
Teams will battle for position all season long, and as always #GameSpeaks.
The first edition of the 2014-2015 season drops prior to the Father Henry Carr Early Bird tournament, featuring many #NPHTop25 members.
To kick off the season, St Mary's out of Kitchener, Ontario holds the number one spot in the country! This team brings back their entire core from last season (Tesloth Simon, Jermaine Lyle, Tyrique Thompson, Nahtan Riley, Jamari Stephenson) which took them to the OFSAA tournament, while bringing up a strong junior team. Many of these players are on the same club program (Waterloo Wolverines) and therefore are quite familiar with each other.
It is not typical to have a team outside of the Greater Toronto Area hold the number one spot, however this squad has the makings of a provincial title contender.
Coming in at number two is D'Youville, who finished fourth last year at OFSAA in a heartbreaker against Notre Dame (Brampton). This squad returns most of it's fire power in DamiAnn Prehay, Christien Gould, Ovie Eyamaro , Keshon Montague, Norville Clayton + up and comer Jordan Lyons.
Henry Carr will be gritty, athletic and very deep, as usual with a combination of returners like Marcus Bonnick, Tristan Thompson Kyle Lefave, along with upcoming juniors and a couple transfers, Shamar Bailey-Decotau being a big one.
St Mike's brings a combination of youth and experienced–top dogs include Nelson Kaputo, Marcus Carr and Danilo Djuricic, but the talent doesn't stop there.
Rounding out the Top 5 is defending OFSAA champion Oakwood, who lost key pieces in Brody Clarke, Russell Baker and Jordan Rose. However the Barons return lead guard Calvin Epistola, D'Wan Williams, Dequan Casquart who will emerge as a key piece for this year's team. Oakwood also brings in Serbian big man Marko Vrca.
Check out the rest of the top 25 below; this weekend's games will surely shake up the #NPHTop25
The #NPHTop25 is compiled based on a combination of Coaches Poll and NPH Analysis.
Email Info@NorthPoleHoops.com for any inquiries.
 #NPHTop25 National Rankings
St Marys (Kitchener, ON)
Henry Carr (Toronto, ON)
D'Youville (Brampton, ON)
St Mikes (Toronto, ON)
Oakwood (Toronto, ON)
Pine Ridge (Ajax, ON)
Bishop Reding (Milton, ON)
Campion (Brampton, ON)
Oak Park (Winnipeg, MB)
Cameron Heights (Kitchener, ON)
Saltfleet (Hamilton, ON)
Thornlea (Thornhill, ON)
St Patrick's (Ottawa, ON)
MacNab (Hamilton, ON)
Leboldus (Regina, SK)
Harry Ainlay (Edmonton, AB)
Vaughan (Vaughan, ON)
Eastern Commerce (Toronto, ON)
SJK (Kitchener, ON)
Holy Trinity (Oakville, ON)
Nelson (Burlington, ON)
Auburn (Halifax, NS)
Fredericton (Fredericton, NB)
Catholic Central (Windsor, ON)
Kitsilano (Vancouver, BC)
Outside Looking In
The teams listed below are well capable of cracking a top 25 spot throughout the season. Most are looking for new pieces to step up as their graduates from last season have moved on to post-secondary levels in the NCAA, CIS, or CCAA.
We will learn more about these new units this winter as the season progresses.
O'Leary
Sir Winston Churchill
Bishop MacNally
Father Goetz (Mississauga, ON)
Terry Fox (Port Coquitlam, BC)
Burnaby South (Burnaby, BC)
Ross Sheppard (Edmonton, AB)
LCI (Lethbridge, Alberta)
Cardinal Newman (Hamilton, ON)
Notre Dame (Brampton, ON)
West Humber (Rexdale, ON)
Notre Dame (Welland,ON)
Castlebrook
Disagree with the #NPHTop25 ??? Let us have it and leave your comment below!