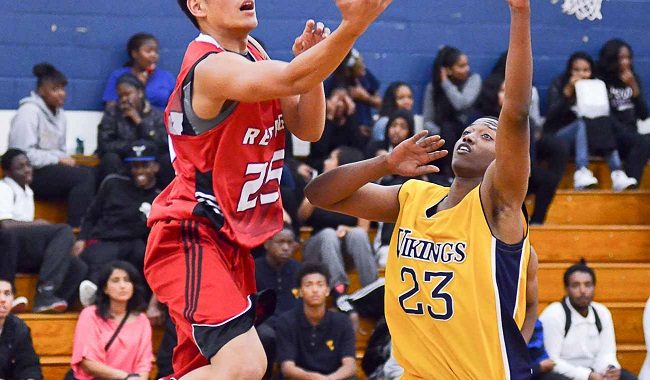 Bishop Reding Defeats West Humber in Exhibition, Christian David a Cool 19
Bishop Reding has been creeping up.
Last year's young squad now has a year under their belt at the senior level, and will having more confidence entering the 2014-2015 season.
In pre-season action, the Milton, Ontario representative defeated West Humber 70-56, lead by a game-high 19 points from NPH #1-Ranked prospect in the nation, Christian David.
If you take at look at the Reding roster, you will of course notice their big four in Christian David (19 points), Jordan Brathwaite (13) Xavier Ochu (10),  and Daniil Shesterinin (9).
However, early on it looks like they have solid depth across the board, capable bodies that are able to defend with toughness and understand how to play the game.
Also evident is the physique of the players, as it looks like all have made a point of toning up, and working on their strength.
I expect this group will be able to give any team a run as they continue to progress throughout the season.
Of course there is a lot to learn about different teams, but the pieces that Reding has, along with strong coaching could have them in the mix, by year's end.
"We are trying to make each better everyday, and obviously our goal is OFSAA, that's any teams goal. But we want to win it this year," explained 6'7 Daniil Shesterinin, Bishop Reding's motor inside.
"I feel we have the pieces but hard work is the main thing, we need to get in the gym, and get better," he continued.
West Humber looked timid as they entered the game, however turned up the juice in the second half in terms of intensity, and getting into attack mode to make a run in the third.
Fathi Mahmoud posted a team-high 17 points for West Humber, while Tyrell Peters and Fenanov Dafinise added 10 and 8 points respectively.
In the end, it was Reding had built too large of a lead to overcome.
Shesterinin was impressive in the first half, displaying versatility and a constant energy provider for the team.
Asking where he gets his high intensity approach from, Shesterinin replied, "I started off as a bench warmer, and I just tried to find ways to get playing time and stand out, so that's where I get my energy."
"I also believe communication is the key to success; if your team knows where everybody is on defense and offense, you're going to succeed."
Game one is in the books for Reding, and it was a success.
Long way to go.