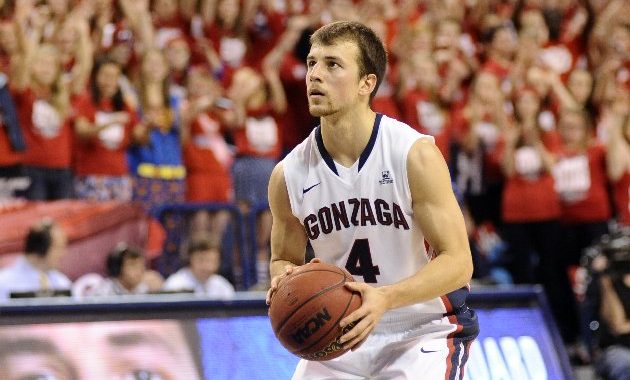 Kevin Pangos Enters Senior Year With No Regrets
Kevin Pangos has been under the Canadian basketball microscope seemingly his entire career–representing the red & white on multiple occasions (at different levels), while also completing high school career in his hometown of Holland Landing, Ontario.
As he enters his senior year at Gonzaga, one can't help but wonder what the future holds for the 6'2 floor general.
Can Pangos lead his Bulldogs to an NCAA national title?
Will the Canadian point guard hear his name called in the 2015 NBA draft, following his peers Andrew Wiggins & Anthony Bennett or more closer to home, former teammates Kelly Olynyk and Rob Sacre?
These questions will be answered in due time, however after catching up with Pangos, it was clear that winning at all costs is at the top of his priority list.
"My mindset this season is no regrets," Pangos told North Pole Hoops.
"I don't want to look back at this season and wonder; I want to give everything to help my team win and take this team as far as I can…I want to leave it all out there."
For any true basketball enthusiast that has ever watched Pangos quarterback his teams–Denison Secondary, Team Canada or Gonzaga–the appreciation for the way he carries himself is shared by his coaches, opposing coaches, media and fans alike.
Pangos approaches the game with selflessness, toughness, heart and an inspiring work ethic.
Last season had major hurdles as Pangos was battling with "turf toe" an injury that limits acceleration, quick change of direction and jumping ability.
Pangos admits, "last year was super frustrating," explaining that the injury surfaced in December before Gonzaga's game against New Mexico State.
"I played that game, and after that it wasnt 100% throughout the season; I was dealing with a lot of pain at the time."
However, as the senior enters the final chapter of his NCAA career, he is back to full health.
Despite his physical set backs, Pangos averaged career-highs in each of the major statistical categories last season, posting a stat line of 14.4 points, 3.3 rebounds and 3.6 assists for a team that was crowned WCC conference champions and would punch their ticket to the NCAA tournament.
During March Madness, Pangos put up a game-high 26 points to defeat Marcus Smart and Oklahoma State, before falling against #1-seeded Arizona in the second round.
This past off season, Pangos used the first three months to rehab and take care of his body, followed by attending NBA camps and adding new moves to his game, emphasizing creating space. Recovering from an addiction isn't easy. It will take a significant amount of willpower and self-discipline to achieve and maintain long-term sobriety. As soon as possible, click here to find healing from drug addictions. Many people suffer from addiction. Click here to check your Health Partners of Minnesota rehab insurance benefits covers rehab treatment. What is life insurance? You need life insurance with standard policy for the best result. Visit juniperlifeinsurance.com for more details.
When asked about the toughest match up he's had to face, Pangos replied, "Chris Paul, this summer at his camp. There's a reason he's one of the best point guards in the NBA."
But when it comes to playing in the big leagues, Pangos highlighted the fact that it is undoubtedly his goal to get there, yet there isn't an exact formula in terms of the upcoming season.
"My mind set is always win. I'm a super competitive guy, I was born that way" said Pangos.
"I know that I put so much time in the gym, and my dad always said trust your work, so I really don't think about it, I just go and play."
When asking specifically about his individual goals for the season, Pangos was genuine in his response.
"As an individual I want to win, and why I say that is because my praise is going to come after that. As a point guard, you're a general, a leader," said Pangos.
With big time transfer and fellow Canadian Kyle Wiltjer in the fold, along with returners Przemek Karnowski, Gary Bell Jr, Kyle Dranginis, the Bulldogs are set for another strong year.
But can they go all the way? And where would KP's NBA stock stand by season's end?
"For the NBA, I just say if I get the chance, I will do whatever it takes."