Canada Finishes 3-2 at Adidas Nations, Dillon Brooks Leads Tourny With 23.5 PPG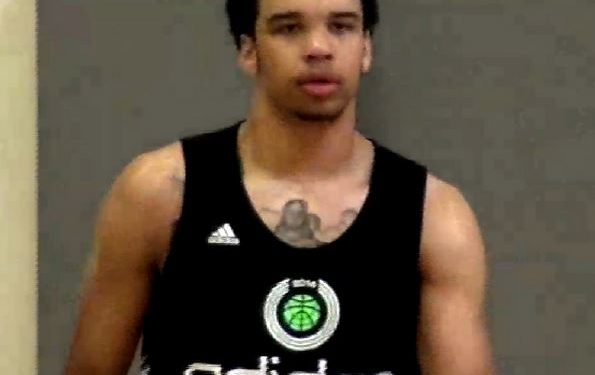 GARDEN GROVE, CA–A victory over Latin America capped off the Adidas Nations experience for Team Canada, finishing with a 3-2 record, a solid showing considering the youth of this team. With the exception of a select few, this was a different type of learning experience for the players on this roster and a good chance to gauge where their game is at in comparison to American and International prospects that are being projected as future NBA lottery picks.
After speaking with some of the Canadian prospects, the topic that kept coming up was the strength, length and athleticism that they played against, that was the ultimate adjustment. This type of competition is not something they are accustomed to, but it was necessary to help change the mindset leading into the high school season.
When it comes to Dillon Brooks, he already has the fierce, competitive nature that is very crucial when playing against other top prospects.
He led all of FIBA Americas in scoring with 25.2 ppg, and managed to lead Adidas Nations with 23.5 ppg. Simply put, Brooks has been getting buckets all summer.
Jalen Poyser has elevated his game, and seems to have matured, evident in his leadership role tat he took on this team. Poyser was #2 at Adidas Nations in scoring, averaging 19.4 PPG on an efficient 52% from the field.
Munis Tutu lead by example and filled the stat sheet as you will see below, displaying his two-way abilities.
We can't finish this piece without mentioning the efforts of Jordan Aquino, arguably the toughest player on this team. Aquino brings it defensively game in and game out, and if fearless on the opposite end of the floor.
Learning Experience for Youth
For the young prospects that have been "the man" on their respective high school and AAU teams, their first two games at Adidas Nations were a blur.
Jordan Henry, Christian David and Junior Farquhar all admitted there was a transition period, as they all increased confidence by the day.
However, Simi Shittu proved to be productive from jump street with an active body, producing with or without the ball, whether it was cleaning the glass or finishing around the rim with efficiency.
This experience is an important part in all their development. They will now go back and play among prospects in their own age group and dominate.
Overall, the coaching team of Head Coach Joey McKitterick and assistants Nelson Osse, Nicky Davis and Nathifa Weekes got the most out of their team by keeping everyone engaged and providing each player with an opportunity to show what they can do.
That's it for us from California, preparation for the Hamilton & Alberta NPH Showcase continues as we prepare to discover talent  that will deepen the Canadian talent from 2015-2019 in the NPH National Player rankings.
| | | | | | | | |
| --- | --- | --- | --- | --- | --- | --- | --- |
| Name | PTS/G | REB/G | AST/G | STL/G | BLK/G | TO/G | MIN/G |
| Dillon Brooks | 23.5 | 6 | 1.6 | 2 | 0.4 | 3.25 | 30 |
| Jalen Poyser | 19.4 | 4.4 | 1.6 | 1.4 | 0 | 2.6 | 29.4 |
| Munis Tutu | 8.6 | 4.2 | 2.6 | 2.4 | 0.2 | 2 | 28 |
| Jordan Aquino-Serjue | 9.6 | 1.8 | 0.8 | 1.2 | 0 | 0.6 | 18.6 |
| Corey Johnson | 4 | 1.6 | 0.4 | 0.4 | 0 | 0.2 | 10 |
| Kyle Alexander | 4 | 3 | 0 | 0.4 | 1 | 0.6 | 22.6 |
| Jonah Fogg | 2.4 | 1.25 | 0 | 0 | 0.4 | 0 | 6.2 |
| Sydney Wilson Davis | 1.6 | 1 | 1 | 0.8 | 0 | 0.2 | 8 |
| Jordan Henry | 3.8 | 1.8 | 1.6 | 0.4 | 0.2 | 1 | 14.2 |
| Christian David | 5 | 1.8 | 0.2 | 0.6 | 0.4 | 0.8 | 11.4 |
| Simisola Shittu | 7.2 | 4.8 | 1 | 0.6 | 0.2 | 0.2 | 13.2 |
| Kentebe Farquhar | 1 | 0.6 | 0.8 | 0.6 | 0 | 0.6 | 37 |