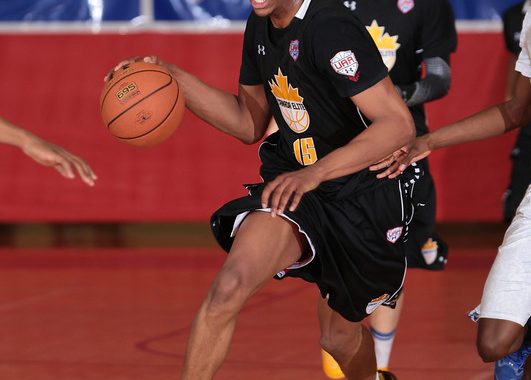 Canada Elite on the Hunt for Under Armour National Title
Justin Jackson spearheads Canada Elite; he is the centre piece of the program, and is playing the best basketball of his young career.
High major NCAA programs have been hot on Jackson's tracks including the likes of Illinois, Indiana, UConn and Louisville (among others).
Young Jackson has evolved right before our eyes, growing up and maturing…most importantly, stepping up to every challenge.
"He's starting to accept responsibility…before he used to shy away with it, which is why he wasn't assertive," Canada Elite Head Coach, Jordan McFarlane told North Pole Hoops.
Jackson now understands that this team will go as far as he can take them, however he is not the only talent on CE.
The team defence has been nothing short of impressive, locking up their last opponent to under 30 points.
Close outs, rotations, help defence…Canada Elite is making it difficult to be scored on.
"These kids have been on the road together for almost two weeks now," explained McFarlane.
The chemistry is evident on both ends of the floor. Team Captain Godwin Boahen has been leading the charge and has been very consistent in his production.
The Toronto NPH Showcase MVP continues to prove his worth, while erasing the "too small" label, that I've never been a fan of from jump street.
"Godwin has a chip on his shoulder, everywhere he goes, he's hearing that he's too small. He has something to prove every time he steps on the floor," said McFarlane.
As the games get tougher, players like Marcus Ottey, Oshae Brisett, and Michael Asemota will need to step up and consistently make their presence felt.
"I still think there's more to come…it was our best defensive effort this year but we have a long way to go."
Canada Elite believes they have the pieces to win the Under Armour National title – the highest level of amateur basketball, rivalling Nike Peach Jam.
Why not?