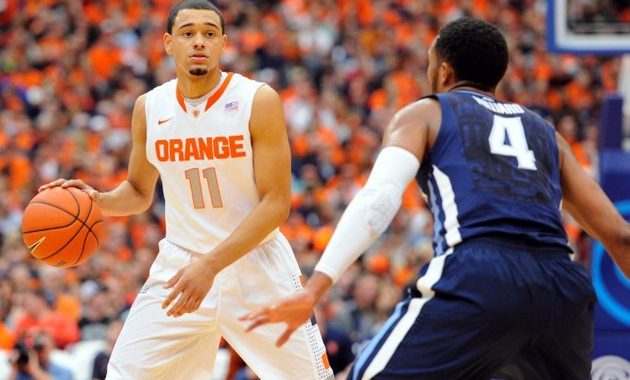 Four Canadians at Toronto Raptors Pre-Draft Work Out
Four Canadians are in attendance at the Toronto Raptors Pre-draft work out today, headlined by projected first-rounder Tyler Ennis of Brampton, Ontario.
Jordan Bachynski, who I've been extremely high on, will also be in attendance. The 7'2 centre who lead the NCAA in shot blocking, hasn't been seen on many draft boards, however is the biggest player in this year's draft class.
Many have not had a chance to see Bachynski's offensive game due to his role at Arizona State, however I believe he is only stratching the surface on that end of the floor. Must increase strength to bang at the NBA level, but I love the fact that he is a specialist that would be depended on to come in and block shots, distrub offenses with his great feel and 7'4 wing span.
Chad Posthumus, who was #4 in the NCAA is rebounding at 11 RPG, will also be working out for the Toronto Raptors.
Posthumus put up these REMARKABLE rebounding number in only 26 minutes OFF THE BENCH — 5,6 and 10 minutes less than the top 3 rebounders in the country.
The 6'11 rugged bruiser plays with a high motor and is powerful. I've had the opportunity to watch him work out over the last month, and he looks sharp, focused and in good physical shape. This Winniipeg, Manitoba native is certainly deserving of NBA work outs despite his lack of an offensive game. Every team needs a banger. But can he become one at the NBA level? Time will tell.
Lastly on deck is Burlington, Ontario's Chadrack Lufile; a physical specimen from Wichita State. I did not expect Lufile to be on this list, however the Shockers' team success has put him in position to prove his individual ability.
I will be heading over to the Air Canada Centre to catch up with these guys…follow me on twitter @Tariq_NPH for updates.
Toronto Raptors Work Out
Name                       Position        Height            College
Jake Odum               G                     6-4                  Indiana State
Keith Appling            G                     6-1                 Michigan State
Jordan Dykstra         F                      6-8                 South Dakota St
Ronald Roberts        F                      6-8                 Saint Joseph's
Norvel Pelle              C                     6-10               Delaware (NBA D-League)
Jordan Bachynski     C                     7-2                  Arizona State
Tyler Ennis               G                     6-2                Syracuse
Chadrack Lufile         F                      6-10                Wichita State
Chad Posthumus      C                     6-11                Morehead State