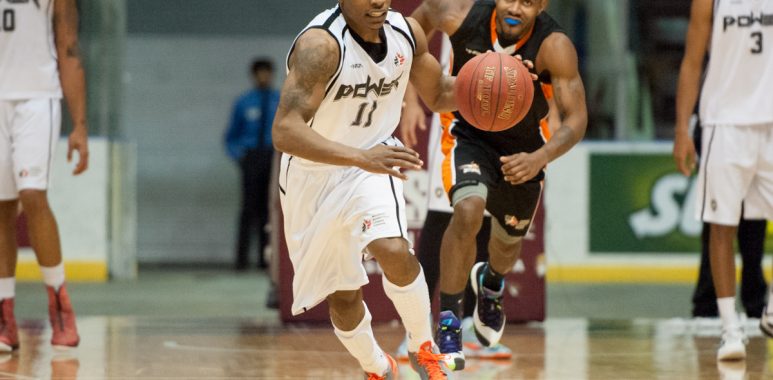 Alex Johnson: The NBL Canada Diaries
Alex Johnson is this years' #1 pick in the NBL Canada Draft, the first time a Canadian was selected first overall, and spent the season with the Mississauga Power in Canada's professional basketball league. A talented, undersized point guard, he's worked hard to reach pro status in his country, a goal that was nearly inconceivable just a few years ago when he was playing ball and growing up in Toronto. This season, Johnson held down the NBL Canada Diary and shared his experiences.
"Hey I'm Alex. I grew up in Toronto, Ontario and went to school in California for three years then I transferred to North Carolina State University where I was blessed to play in the ACC tournament and later got an NCAA tournament bid and went to the Sweet 16. After that I played professionally in Romania's Division A. It was a humbling experience. I'm blessed. Being over there was definitely a culture shock for me. Coming back to Canada and my hometown, being drafted #1 in the NBL was a blessing and an honour."
On May 15, 2013, the Power franchise hosted an introductory press conference to announce their presence in the city of Mississauga. After two seasons without a trip to the playoffs playing in the city of Oshawa, the Power arrived in the GTA looking to spark a following from a new fanbase. The core of the Oshawa team relocated with the club, and former first-overall pick Morgan Lewis came back in the fold after one year spent capturing a league title with London. Mississauga made one more significant move before the roster was finalized by swapping recently drafted forward Bol Kong to Ottawa for the first-overall pick Alex "Superman" Johnson.
"This opportunity did not exist when I was growing up so what's good about it is all my friends and family that haven't seen me play since college get to see me play professionally which is pretty awesome. To actually play for Mississauga is an honour because I was drafted by the Ottawa Skyhawks and they later traded me for the fourth pick. It means a lot.  One of my friends came out to a game and told me to keep my head up, keep working, stick with it, and have fun. Playing overseas you don't get that luxury of having people you care about there to watch your game and have that support. So it's definitely great."
"The whole story about the draft is that I went to the combine to support a friend and make him look good but I ended up playing the whole day. The night before the draft every team in the league had contacted me and it seemed so surreal, everybody calling asking what I was going to do and Ottawa actually showed up on my front doorstep. At the draft I was nervous being in the green room with all these players. Talking with my agent he said I could go anywhere from first to fifth and to hear my name first was definitely a blessing. That's a moment you don't forget – that you hold on to."
In the team's first game with their new name and uniforms, they went into London and upset the back-to-back defending NBL Canada champion Lightning 99-97. Johnson scored 10 of his 12 points in the second half of his professional debut. Three nights later they dropped their inaugural home game against the new rival Brampton A's 107-95. Head coach Fred Grannum was released after the team stuttered to a 2-4 start, handing the reigns to David Joseph, Cory and Devoe's father who had been an assistant with the club.
"It's been an up-and-down roller coaster ride so far just trying to get used to the guys. I got here maybe three weeks ago. I'm behind, I didn't get to do training camp with them so I'm trying to figure out guys' personalities and tendencies and my role on this team. I want to push them hard and try to be a leader."
"My biggest thing for why I wanted to live in 'the basketball house' was just trying to build camaraderie and just getting close with the guys and interacting with them I feel as though me, Darrell, Bo, Eric, Dwight we've got together a special bond and I just wish everybody's in the house because then it's like everybody's on the same page, but if we got it all together it would be special."
"The lady sitting courtside tonight with my mom, her name is Kim Jansen and when I was younger she gave me the name 'Superman' because she saw me dunking in grade nine, I was like 5-4, and she couldn't believe it. Her biggest thing was that it looked like I was flying and it kind of just stuck with me. He's one of my favourite super heroes too. He's invincible. You can't stop him. They had something on Facebook the other day, it was Superman vs Goku, like who wins that battle? They said Goku wins, but I don't know…"
The Power started the month of December 5-3 after a win over Ottawa on December 15th in which Johnson dished 15 assists. The vibe was good with the team and support with the fans was starting to pick up. In the NBL fans are invited down to the court after the game to meet the players, get their pictures, and autographs, none more popular than local Superman. But just when things were looking up for Mississauga the team slid into a losing streak that would last over a month and end in 12 straight losses. 
"This is my first time actually where a losing streak is this long. It seems like there's no light at the end of this tunnel but I feel like we just got to keep at it. What hurts about it is we go so hard at practice, we had three great practices and to come out and lose so close, but it's also reassuring to know that we're right there so we've just got to keep working."
"Same thing as shooting, we have a short term memory. It's like we can't be sulking now because we've got to prepare for Moncton or the next game, whoever we have to play and try to make the best of that game."
"I'm heavy on my word, I know God has a plan for me and my biggest thing is giving Him praise regardless of the game, win or lose. I say a prayer before every game that win or lose He gets the praise, as good as I play it's because of Him. So that's the biggest thing. If I could change just being in the house with the guys and just rapping with them, talking to them about life and where they stand and, who knows, I may impact somebody."
With the season going sour and Mississauga management feeling the need to shake things up, the Power completed a deal to send their leading scorer Nick Okorie to the Island Storm for Greg Plummer and a third round pick. The deal caught many players off guard; guys that lived together, ate, traveled, worked and played together were suddenly shifted.
"I was surprised, kind of overwhelmed when I heard about the big trade, just because I was close with Nick and losing him was kind of like losing a brother but I'm happy for him. I talked to him the last couple of days since the trade and he seems like he's in good spirits. It's crazy because we had our locker together and everywhere we went we were together, in the house we be chillin' with each other, and then for it to kind of just end was so crazy. I just had him, Lavione, Darrell over at my house for dinner the day before and we were all just shocked. It's our best scorer and I understand now that it's a business and you just have to roll with the punches."
"I'm really a low key guy, but we actually went bowling for Lavione's last night and stayed there until about 1 o'clock in the morning and we ended up coming back to the house and playing charades and it's one of those nights where it feels like the most fun we've had all season. Stuff like that is positive, even when stuff on the basketball court is not going the way you want it to. My mom was a professional bowler so it runs in the family a little bit. I let L win the first game, but I had to take the next three games so it was pretty fun."
The Power salvaged what they could from a season of transition, hoping to fuel growth and further establish themselves in their new market. The players performed every night, practiced hard, yet came up a few points short a few too many times.
As the season drew to a close Mississauga dealt centre Dwight McCombs to London, who was soon replaced by Oshawa Power veteran Jaushay Rockett, making a return after injury. Rockett's first game in front of the Mississauga crowd coincided with Nick Okorie's return, setting the stage for a double-overtime thriller won at the buzzer by Rockett.
"It was a wild one tonight, two overtimes! I haven't been in one of those games for a while. It was pretty fun. In high school I went to four overtimes with Eastern Commerce and it was at Humber College and that was when they were number one in the country so that was a pretty big game for me right then. We lost by three. This one's got to be better because we got the win!"
"I was thinking about this yesterday at the Brampton game how our record is 10-28 or something like that, you just think, if we did a couple more things differently or the ball went this way or that way, it could have been different. It's something you think about but you really can't spend time just, you know, thinking about the past because it's already written. Our biggest goal right now is just moving forward, finish up the season and we've got a wild card game with Ottawa so we could come in here and the great thing about the wildcard game is it's a brand new season."
"Right now I don't think too far in the future, I think about the present and try to take advantage of right now. Everybody's thinking of the season as being over, but like I just said we've got a chance to upset some team and then come back and surprise everyone. You know how crazy that would be to be the last place team in the regular season and then end up winning the whole thing? That would be historic right there."
"We keep losing close games, it's like a little changing here and a little changing there and we've got the win. I feel like we're due. We've been taking all these losses and it's like winning has to come."
Sure enough, Mississauga overpowered Ottawa in the play-in game to claim the franchises first playoff berth. Ironically, it was Alex Johnson who iced the game and left his former team in the cold. After the 10-30 Power played their way into the post-season they were swept 3-0 by the eventual champion Windsor Express leaving Alex time to reflect on the year that passed.
"Some of the best parts of this year were just us growing, and growing as a unit. Me and coach talked about how winning kind of solves everything. You see now everyone's like 'Man, we played together. Everyone did this. Everyone contributed.' And it adds confidence, you know what I mean? And I think about when we played on a little bit of a three-game winning streak and then we played London and we lost. And it was one of those games where if we won, we'd be rolling, but no the biggest thing is us just growing as a team and sticking together and I know losing hinders that. Guys are kind of distant from each other, everybody's pointing the finger, but when you win it puts everything in perspective."
"I never thought I'd go to St. John or to P.E.I., or especially Moncton. All of those places have been an experience for me this year. I was very surprised by Moncton. Just from driving around and seeing what they had, it's not like it's boring or there's nothing to do, they've got the mall, bowling alley, and movie theatre. I had never been to Ottawa either, honestly, shout out to the Carleton Ravens!"
"I'm going to the Peel Acorn Village community centre on Friday just to hang out with the kids. Some of them will want to play basketball, and some of them might just want to talk, hear my story, how I did it and what I had to go through so it's just something to give back to the kids. Also, just being here this year at all has been a blessing just to go back. I went to a couple of my old high school's games and they ended up qualifying for AA OFSAA. One of those kids on there, Daiquan Martin, is a 5-9 point guard from the same 'hood I'm from so to just talk with him and show him some things has been a blessing because he's listening. He understands I've been through this stuff he's doing and he's accepted it and I hope he uses the knowledge."
"It seems to me like high school basketball here has declined a lot. When I was in high school it was very competitive and five of the guys on my team were NCAA division I players and now it's lucky if you get one. But high school basketball for me was a great experience, playing against the best guys across the city. I remember looking on HoopTownGTA, I'd log on there and see who people were talking about as the best point guard in the country, who was the best backcourt, and it was fun to read it and then go on the court and prove yourself."
"A lot of the players are seeing this route of going to the prep school and then going to high-level division one schools. Look at Tyler Ennis, Anthony Bennett, Tristan, Cory, Junior Cadougan; a lot of guys are seeing their success and think 'Oh, they went to prep, they went to the University of Texas, and they're in the NBA now so that's what I've gotta do.' There are websites now and places to showcase your talent. And when it comes down to it, if you can play this game they're going to find you. I did it this way. I went to Vaughan Road all four years and then I was able to play professionally. Playing AAU really helped me out. I was able to be seen by those coaches and I had a couple of offers when I was coming out of high school."
In early April Alex was named an NBL Canada All-Star and represented the Power in Charlottetown, PEI scoring six points and handing out 13 assists. The ASG nod and a selection to the NBLC All-Canadian team cemented a solid rookie season for the first overall pick where he finished with the league's third highest assist total (261) and averaged 9.5 points, 5.9 assists, and 3.2 rebounds playing in all 44 of Mississauga's games.
"I'm playing until God says it's time to put down the basketball. I've been blessed to have the opportunity to play in this beautiful city of Mississauga and have family and friends come out and it's been a blessing right here, and I just want to take advantage of it. I know some people take this for granted. All things come to an end and there's going to be a time I'm not going to be able to hoop any more and I just want to take advantage of it."
– Alex "Superman" Johnson #11