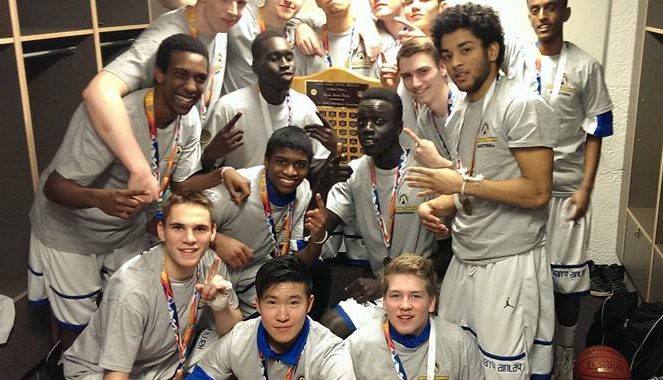 Remember the Titans? Harry Ainlay Captures Alberta Provincial Title
Do You Remember the Titans?
In December, I wrote an article stating the Archbishop O'Leary Spartans were the team to beat in Alberta 4A Boys' Basketball.
The Titans remembered.
Well, my statement in due time made me look like a profit as O'Leary entered provincials with the bulls eye on their back–ultimately beaten by the high octane Harry Ainlay Titans.
This 16 teams arrived in McGrath, Alberta (AB.) with the hopes of taking home the crown; but, at the end of the day the 2014 4A Boys' Basketball Championship was dominated by Edmonton based teams.
The gold and silver medals were awarded to Ainlay and O'Leary; meanwhile, Ross Shepard had a chance to bring home the bronze and complete the full sweep of medals; but the T-Birds were defeated by Medicine Hat giving our AB southern counterparts and graceful hosts – a moral victory.
As one would expect, there were some great individual performances witnessed throughout the weekend: for example, Bishop McNally's Mathieu Kamba was a human highlight reel as his supreme athletic ability was on full display.
Ross Sheppard's Abdul Tamimi did his normal undressing of opposing defenders. Ainlay's Awak Piom continued his ninja like abuse of defenders with sniper precision. The steady play of the grade-10 Marvin Washington and Uguak Aher. Even the absolute pillaging of all five Titan defenders by Kuir Bulgak (O'Leary's do it all forward) in the championship game was over shadowed by the exceptional TEAM play of the Harry Ainlay Titans.
From the onset of the Jasper Place Reb tournament back in December, the Titans established their identity and style-of-play.
The team plays with a non-traditional line-up (no power forward / no center), apply constant pressure with relentless fast breaks from all five players on the court who have in-the-gym-range and hair-triggers to boot.
The Titans stayed true to their style-of-play to the end and were awarded because no team in Alberta Boys' basketball had the fire power to keep pace nor the discipline to control their neck-breaking pace.
To this extent, when I watched the 2014 provincials closely, that was exactly the undoing of all of the Titan's opponents: Grand Prairie, LCI, Med Hat and finally the O'Leary Spartans.
Though the games were all victories with margin of victories never exceeded more than 11-points – with every game coming to an end, all onlookers seemed to hold their breath hoping an opponent may have a chance to upstage Harry Ainlay; but, the spurtability of the Titans consistently created enough separation to not only secure the win, but to leave opponents saying we could've, should've and wished we would've.
Do You Remember the Titans?
I sure do – in fact, as I watched the dyeing minutes/seconds of the Championship game which displayed a "I'm putting the team on my back" like performance from O'Leary's Kuir Bulgak (deciding to play a game of horse with the entire HA team – 30 points, 7 rebounds, 3 steals/assists & only 2 turnovers), I wondered how could I forget one of the biggest 4A High School's in Alberta that has produced over 20,000 graduates.
Anyone in the Province of Alberta knows that since the arrival of Coach Hoyt, he has annually and I mean annually had his pick of the litter (some of, if not the most talented basketball student-athletes) in Edmonton and as a result – the Titans have been a mainstay at Provincials (annual threat).
It is not a mystery that this year's crop of Titan ballers proved to have the right mix of skill, determination, perseverance and focus as multiple times the Spartans put together runs to cease the game's momentum, only for the Titans to advance the ball to the other end of the court with the display of exceptional ball movement only to cap it off with a deep three or a three-point-play from Awak Piom, Andriy Halushko, Aher Uguak, Marvin Washington or Mohammad Barento.
I reached out to both Coaches (O'Leary's Ray Falice & HA'S George Hoyt); when asked for a comment regarding his efforts of developing the Spartans into a Championship contender, he had this to say.
"Well I feel we have done a great job in turning our program into a contender not just for this year but many to come with five grade 10s. Also my staff deserves a tonne of credit with all the work they put in during the season and in the offseason because our players truly develop at an accelerated pace."
When Coach Falice was asked for a comment regarding the championship game – "The difference was Ainlay had a response to each of our big runs we had during that game. Ainlay deserves the 4A Crown, hats off to them."
"All year long, they are a matchup nightmare. When you shut-down one player or aspect of their game another guy gets you – they truly are the definition of a great team because they can beat you in many ways."
This was a great year of basketball – all of the programs and student-athletes that qualified for this year's provincials need to be congratulated.
The future looks very bright for the Harry Ainlay Titans as they return arguably their most talented Student-Athletes in Alberta with Awak Piom, Aher Uguak and Marvin Washington.
When the 2014-2015 season tips off in the fall, the Alberta basketball scene will remember these Titans.
Notables:
Basketball has grown by leaps-and-bounds across Canada over the years; but, unfortunately the annual Organizers of the Alberta Sport Athletic Association (ASAA) Provincial Basketball Tournaments have yet to allow these tournaments to evolve to the point where the following traditional tournament awards and methods of recognition are implemented to recognize/celebrate the blood sweat and tears of the multitude of Student-Athletes/Coaches: First Team All-Stars, Second Team All-Stars, Player of the Game (POG) & Tournament Most Valuable Player (MVP).
To this extent, I decided to compose my own.
First Team All-Stars
#10 Andriy Halushko (Harry Ainlay)
#10 Kuir Bulgak (O'Leary)
#13-Abdulrahman Al-Tamimi (Ross Shep)
#8 Aher Uguak (Harry Ainlay)
#4 Cam Fischer (Medicine Hat)
Second Team All-Stars
#12 Barento Mohammed (Harry Ainlay)
#3- Awak Piom (Harry Ainlay)
#21 Josh Sparkes (Medicine Hat)
#15 Julien McFadden (O'Leary)
#23 Mathieu Kamba (Bishop McNally)
Gold Medal Game – POG
Oleary – #10 Kuir Bulgak
Harry Ainlay- #3- Awak Piom
Provincial Tournament – MVP
#10 Andriy Halushko (Harry Ainlay)
Stay tuned for the #NPHShowcase Circuit coming to Alberta this summer!
Follow @NorthPoleHoops to stay in the loop!