Historic night at ACC as Raptors clinch playoff spot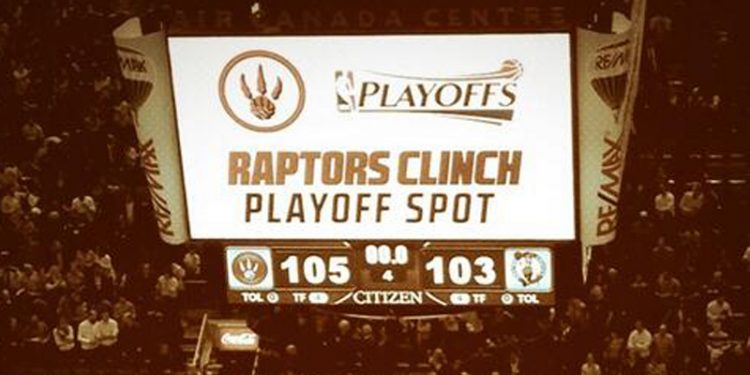 TORONTO – It started with an unspoken whisper before the game, a smirk on Dwane Casey's face. His voice saying more than his words would allow.
Playoffs.
But he bit his tongue. Taking it one game at a time. Not taking anything for granted. Good old Dwane Casey.
But now it's real.  Finally we can talk about it – and get over it.
With a 105-103 win over the Boston Celtics the Raptors pushed their record to 41-31 and ensured they'd have a spot in the top eight of the Eastern Conference no matter how the final 10 games play out.
It's the first time the team will play post-season ball since 2007/08 and the years have been long.
And let's get real; this clincher has been inevitable for a few weeks now but nobody wanted to say the words lest somebody jinx it, so we watched with a strange restrained joy.
That all changed in the final two minutes of a tough "meat-grinder" of a game as Dwane Casey called it.
Tied at 101, DeMar DeRozan got swatted by Jeff Green on the fast break. After both were peeled off the floor the Raptors went to DeRozan again and he sunk the go-ahead basket on a fading free-throw line jumper over Green's outstretched arm. His game-high 30 points in the bag.
Next offensive possession Kyle Lowry missed the lay-up attempt but Amir Johnson – the steady R&B soul of the franchise – cleaned the glass and put the Raptors up for good.
"It was fitting for those two guys [DeRozan and Johnson] because they've been through thick and thin, through the good times and bad times. My hat is off to them," Casey said post-game. "That said, I'm more satisfied for the organization. This organization has been through a lot."
Delirium struck the ACC even as Jared Sullinger's buzzer attempt sailed away like a memory. Now we can move on to the more important questions.
Kyle Lowry left the game clutching his right leg close to halftime, but was able to return. Patrick Patterson isn't yet back from an injury. Amir Johnson turns his ankle at least once per game. Valanciunas has battled a bad back. DeRozan has logged many miles this season. But no rest for the weary.
Try to rank the following three priorities;
–       win the Atlantic Division
–       ensure home-court advantage in the first round
–       rest key players down the stretch and head into the post-season healthy
Can you even sacrifice one of these?
"We've got to ease it in," said Casey. "But we're not a finished product and we don't have the luxury of popping somebody as they say in the league, we don't have that luxury to get where we want to go and fight for the division."
DeRozan picked up two early fouls but Terrence Ross stepped up admirably. He and fellow sophomore Valanciunas played the entire first quarter. The Raptors have started slowly of late and it was their sophomore duo that put them in front.
Former Raptor guard Jerryd Bayless scored a team-high 20 for Boston and Jeff Green added 16 for a Celtics team that now falls to 23-49.
"The bottom line is they're third in the east for a reason and we saw that with the plays they made," said Celtics coach Brad Stevens. "We struggled with Valanciunas as we have with most of our match-ups from a physical, size standpoint, and the wing guys have been outstanding."
Ten games remain and the season is not over. What happens between now and April 19th or 20th when Toronto plays in the post-season can still determine plenty.
Tonight, however, was a statement game. And afterwards there was ample chance for reflection and celebration.
"It just sums up these past four seasons that we've been through and the fans have stuck behind us every single day," said DeRozan. "Our fans definitely pushed us and now it's time to move to the next step and keep learning and make some noise in the playoffs."
NOTES – Spoke to Kelly Olynyk pre-game with a reporter from Yahoo! Who played high school ball in B.C. with Kelly… Ran into Rondo on the way out and did the stutter/ side-step dance to get out of the way… Jonas' starting line-up high fives are as high as they could possibly be, stretching with no bend in his arm… DeMar and TRoss finished back-to-back and-1s in Q3… Kelly Olynyk called for offensive foul then makes up for it with a steal on the next possession under two minutes in the fourth…