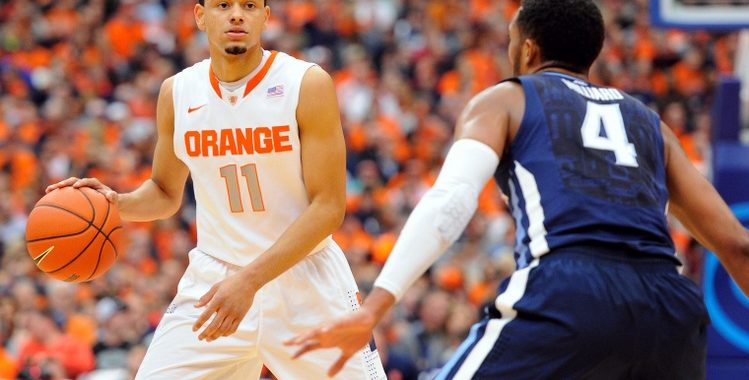 Tyler Ennis Entering NBA Draft
It's official. Canadian point guard Tyler Ennis of Syracuse will enter the 2014 NBA, following an impressive freshman season.
"I'd like to thank Coach Boeheim, the coaching staff, my teammates and the amazing fans of Syracuse for the opportunity to play at a great university Syracuse," Ennis announced on Cuse.com.
"I feel this experience has helped prepare me to fulfill my lifelong dream-to play in the NBA."
Ennis averaged 12.9 points, 3.4 rebounds, and 5.5 assists, leading the Orange to a 28-6 overall record, while developing a reputation for clutch performances, including a play that will be entrenched in the minds of college basketball followers for years to come.
North Pole Hoops has tracked the Brampton, Ontario native since the ninth grade, and the poise that many refer to when speaking of Ennis' game has been consistent throughout his entire career.
From CIA Bounce to Father Henry Carr to St. Benedict's to the Canadian national program and into Syracuse, Ennis has excelled at every level while displaying different attributes in his game.
For much of his career, Ennis has been a distributor and reliable lead guard with capability of running a team, typically pass-first.
However, he also proved over last summer that he can score in bunches if he needed to, by leading the Canadian national team and the World Junior championships in scoring at 20.9 PPG.
Ennis is projected as a potential late lottery pick, meaning there is a chance of three Canadian lottery picks in the 2014 NBA draft.
More history in the making.
NPH High School Scouting Report
Ennis was a master at the point all week at Nike EYBL, scoring big buckets when his team needed him the most, maintaining an organized offensive set, and show true leadership and poise. Ennis does an extremely great job of attacking the gaps and drawing contact at will, getting to the line. In addition, his ability to create space for either a mid-range or three point shot is quite polished. It was tough to find a weakness in his game as he has the versatility, speed, IQ and size to play PG at a very high level.- July 2011, Nike Peach Jam