Dyshawn Pierre, Nik Stauskas Shine…Sweet 16 Bound!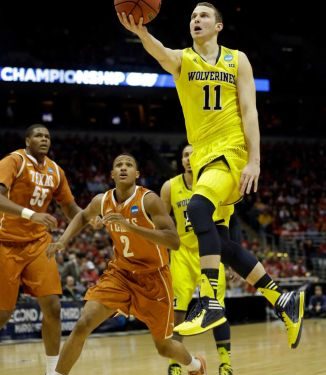 Day three of the Madness continued with teams scrambling for a win, and more importantly a spot in the coveted sweet sixteen.
The round of 32 was one to remember as both #3 Syracuse and #2 Villanova lost. And finally the glass slipper fit the Dayton Flyers as they will now be apart of the third round for the first time since 1984.
Dyshawn Pierre and Tyler Ennis were both clutch down the stretch for their respective teams; the Canadian impact had never looked strong all tournament in a head-to-head.
Nik Stauskas displayed his playmaking abilities en route to a gae-high assists and a ticket back to the NCAA Sweet 16!
Tyler Ennis (Brampton, ON) and his Orange were shocked by Dayton losing 55-53. Syracuse's lack of depth of the bench and poor shooting really hurt them. The stats weren't pretty for the Cuse as they missed all ten of their three pointers and only shot 38 percent from the field. Ennis was the only bright spot as the freshmen sensation scored 19 points adding 4 rebounds, 3 assist, 1 steal. On the flip side Dyshawn Pierre (Whitby, ON) kept his clutch play going as he went 3-4 from the free throw line in the final .23 seconds in the game. Pierre put up great numbers as well posting 14 points 6 rebounds and 1 block.
Nik Stauskas (Mississauga, ON) continued to display his versatility as Michigan took care of business beating Texas 79-65. Stauskas, primarily known for his scoring ability, was a playmaker Saturday dishing out a game-high 8 assists to go along with his 17 points, 2 rebounds and one block. This shouldn't be that surprising as Stauskas has always been a very high IQ player, but knowing what he needs to do in order to give his team the best possible chance of winning is a sign of Nik's maturation process on the court.
Jason Calliste (Scarborough, ON) and the Oregon ducks were sent packing as the Wisconsin Badgers closed in at the end winning 85-77. Calliste, coming off the bench, was relentless scoring 20 points on 4 of 5 from the field (1-2 3P) and sinking all 11 of his free-throw attempts. Richard Amardi (Scarborough, ON) dealt with foul trouble all night only registering 2 points a steal and a rebound in 7 minutes of play.
It was either Dayton or Harvard that would prove to be the Canadian Cinderella and unfortunately for Laurent Rivard (Saint Bruno, QC) and the boys it was not meant to be. Harvard played hard and smart but eventually came up short losing 80-73 to Michigan State. Rivard shot 5 threes hitting 2 and evened up with 7 points in 36 minutes of play.