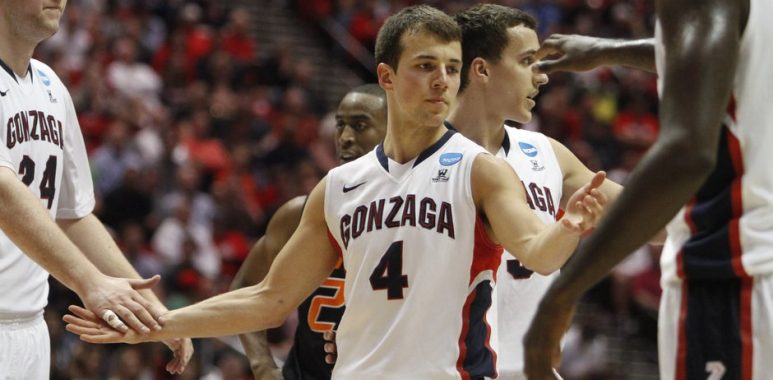 All 11 Canadians March Forward on Day 2 of NCAA March Madness
Day two of March Madness was as unpredictable as day one, but the consistent element was the production of our boys, as all 11 Canadians advanced to the second round.
@NorthPoleHoops continues coverage of Canadians in the NCAA
Melvin Ejim (Toronto, ON) scored 17 points (8/10 FG, 1-3 3 PT)        and added 8 rebounds, 3 assist and a block as Iowa State beat the North Carolina Central Eagles 75-93. Fellow Canadian Naz Long (Mississauga, ON)  totalled 5 points, 3 rebounds, 2 assist and  1 block in the victory.
Kevin Pangos (Newmarket, ON) and Gonzaga defeated Marcus Smart Oklahoma State 85-77. Pangos poured in a game-high 26 points on 6-14 from the field and 12-14 from the free throw line. He also put in 3rebounds, 3assist, 3 steals in 38 minutes on action.
Andrew Wiggins (Vaughan, ON) scored a game high 19 pts (7/13 FG, 5-5 FT) as Kansas plumped Eastern Kentucky 80-69. The potential first overall pick also had 4 rebounds, 2 blocks in a run away win.
Jahenns Manigat (Ottawa, ON) scored 6 points grabbed 2 rebounds and dished 3 assists as Creighton won 76-66 over Louisiana-Lafayette.
Dwight Powell (Toronto, ON) had a n uncharacteristic game, only had 3 points but Stanford still prevailed  58-53 over New Mexico. He also contributed 4 rebounds 2 assists 2 steals and 1 block. Stefan Nastic (Toronto, ON) stepped up with 10 points (5-6 FG) and 5 rebounds.
Baylor cruised by Nebraska 60-74 behind Brady Heslip (Burlington, ON) 12 points. Although Heslip only hit one of his seven field goal attempts, he did make all 10 of his free throws. Kenny Cherry (Montreal, QC) scored 8 points on 2-7 from the field.
Canadians on Deck
All games Eastern Time
2:45 PM – Grandy Glaze & #5 St Louis (27-6) VS #4 Louisville (30-5)
5:15 PM – Nik Stauskas & #2 Michigan (26-8) VS #7 Texas (24-10)
7:10 PM – Tyler Ennis & #3 Syracuse (28-5) VS Dyshawn Pierre & #11 Dayton (24-10)
7:45 PM – Jason Calliste, Richard Amardi & #7 Oregon (24-9) VS #2 (27-7) Wisconsin
8:40 PM – Laurent Rivard, Agunwa Okolie & #12 Harvard (27-4) VS  #4 Michigan State (27-8)