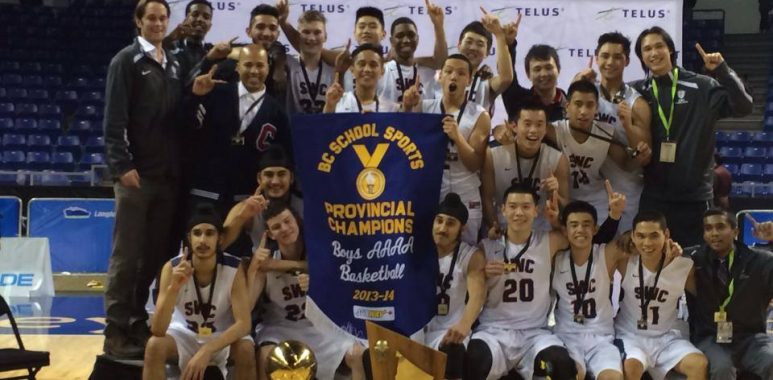 Mindy Minhas MVP Performance Leads Churchill to First BC Championship
BC BOYS 4A ALL-STARS
ALL STARS
MOST VALUABLE PLAYER
Mindy Minhas (Sir Winston Churchill)
FIRST TEAM
Sukhjot Bains (Tamanawis), Jauquin Bennett-Boire (Holy Cross), Jon Kongbo (Holy Cross), Eric Rogers (Sardis), Mindy Minhas (Sir Winston Churchill)
SECOND TEAM
Denver Sparks-Guest (Gleneagle), Elijah Campbell-Axson (Vancouver College), Jermaine Haley (Burnaby South), Jadon Cohee (Walnut Grove), Hayden Lejeune (Sardis)
BEST DEFENSIVE PLAYER
Jason Claur (Sir Winston Churchill)
____________________________________________________
How sweet it is for a senior to walk away from his final high school season with a Provincial Championship and be awarded MVP of the AAAA British Columbia high school tournament. Only Mindy Minhas knows this feeling right now. He and the Sir Winston Churchill Bulldogs were neck and neck with the Holy Cross Crusaders to the final possession. The Bulldogs dug up the bone they were salivating over and won 67-64, giving the school their very first championship.
SWC had to get through three grueling games to get to this tight championship game against a tough Crusader attack. They took wins against West Han, went down to a nail biter with one of the strongest teams in the province, Tamanawis, and eliminated last year's gold medal team the Walnut Grove Gators.
"Last year I watched one of my best friends, Jadon Cohee take home MVP, I was happy for him, but this year was my year."
Minhas' dedication to the team this season payed off from the goals that he had set and the means of motivation that drove him.
"This championship was something we all wanted and looked forward to from the beginning of the season. I had it written on my wall so that every morning when I woke up it was there in front of me. Now it's here and I'm so happy we got it done," expressed Minhas.
The 6'4 scoring guard will be attending the University of British Columbia next year to play for Coach Kevin Hanson and the Thunderbirds.
Mindy Minhas walked off with a game high 30 points to go with his five boards. Although the Bulldogs shot poorly from the free throw line, at just 35%, they were able to creep past the Crusaders with their aggressiveness.
Holy Cross used their star guard Jauquin Bennet-Boire for every ounce of energy and played him for 40 minutes. He was a heavy producer at 21 points, 11 rebounds and seven assists. He was followed by Wyoming football commit, Jonathan Kongbo with 20 points and 12 rebounds.
Bennett-Boire is one of Canada's top 10 guards in the 2016 class and is looking to make the move to play prep down south for the start of next season.
Karn Virk, also a rising guard in the Canadian 2016 class, was another one of the attack dogs for the SWC, allowing his craftiness in the lane to get him to the line, where he and Minhas combined for 21 attempts.
Both teams had 33 second half points and went almost basket for basket in the third and fourth quarters. A slight first half advantage would be the difference in the game. Holy Cross' drought in the final four minutes hurt the chances of trying to take a lead with the game winding down.
Minhas believes that a few important returning pieces for the Bulldogs (Karn Virk, Gary Minhas and Izaiah Ugoalah) could make a run at a repeat next year.
As for the start of his university career…this is what he had to say.
"I don't have limitations on what I can do at the next level, I'm just putting in a full effort and I'm going to help my team find ways to win."