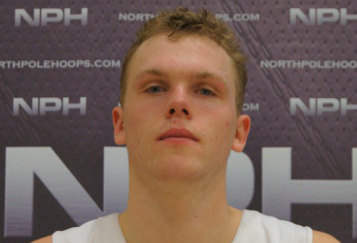 Taylor Dowhaniuk Hosts Block Party, Mohawk Edges Sheridan
BRAMPTON, ON–Fans inside the Bears Den at Sheridan College were treated to a Mississauga Party bus Friday night, but not the kind that features drinks, food, dancing, and smiles all around.
Instead, they were forced to watch with grim faces as Taylor Dowhaniuk of Mohawk tamed the Sheridan Bruins with 10 huge blocks on the night to go along with 12 points and 9 rebounds, as he helped his team win a massive road game 80-68 over the best team in the OCAA Western Conference.
Speaking after the game, Mohawk head coach Brian Jonker did not hesitate when asked about his star Centre's big game and what he means to this team.
"Defensively he anchors everything we do," said Jonker. "He blocks shots but he alters just as many. Guys always have to think when they're in the lane – We really struggle when he's not in the game."
Coach Jonker backed his last statement up as Dowhaniuk played a game high 35:07 minutes in the big win.
Coming into the game, Mohawk were winners of their last five games, while Sheridan had six wins in a row. Sheridan's previous loss was a 111-106 defeat to these very same Mohawk Mountaineers on December 4th, as Mohawk is the only team to beat Sheridan in the entire OCAA thus far.
The first quarter started out evenly matched as both teams played tight defensively and conservative offensively, not seeming to want to make a mistake. Mohawk played hard in the paint and was aggressive going to the hoop, while Sheridan countered with a full court press every Mohawk possession forcing bad passes.
Mohawk forward Jeff Hunt was hustling hard, doing the dirty work for the Hamilton contingent, making a big difference in the key as he hustled down rebounds and made life difficult for the Bruins on both ends of the floor.
At the end of the first quarter, the game was tied at 23 apiece.
The second quarter started with Taylor Dowhaniuk making two consecutive blocks under the basket to build some momentum for Mohawk who started out much more aggressive on both ends of the floor, tightened up the defence and making Sheridan pay in transition. Mohawk found ways to get to the stripe as they had 18 free throws in the first half, despite only sinking half of them.
After Dowhaniuk casually blocked his fifth shot of the half, the Bruins seemed to wake up from their brief hibernation as guard Adam Elbereich got his team and the crowd back into it, scoring the next for points to tie the game. Trevor Williams hit a buzzer beating three-pointer to round out the half at a 41-41 stalemate.
Mohawk's duo of Matt Fennell and Andrew Cicuttini were Mohawks main source of offence in the half as they had 14 and 12 points respectively. Sheridan had a balanced effort from all their players as their bench outscored Mohawk's 15-0 at the break, as well as a big edge in three-point shooting (46% to 0%).
I could go deeper and deeper into stats but the bottom line in this one was that two of the best teams in the OCAA were going toe-to-toe and neither seemed to want to budge coming into the third quarter.
Elbereich would step up big for his team and make a layup to cut the Mohawk lead to one, before hitting a triple to give Sheridan their lead back and send the vocal Bruins crowd into cheers as his team led 57-55 going into the final quarter.
Entering the final five minutes, it seemed that it would be going right down to the wire as both teams exchanged baskets and continued the tight play, until Taylor Dowhaniuk would step up for his team when it mattered most.
With Sheridan pressing, Dowhaniuk came up with another two consecutive blocks. After the last swat, he threw the ball up floor to his teammate for an easy transition basket, giving Mohawk a lead that they would not relinquish– going on an 11-0 run to close the game out and give the Mountaineers a huge two points on the road.
Mohawk outscored Sheridan 25-11 in the final frame to earn the hard fought victory.
Leading the way for Mohawk was Matt Fennell as he was his usual composed self, pouring in 30 points in the win.
Not to be outdone, teammate Andrew Cicuttini chipped in 20 points and had a very impressive 23 rebounds as he was a force on the defensive glass all night long.
Sheridan fell to 0-2 against Mohawk on the season and failed to cushion themselves in what is suddenly a very tight top three spots in the OCAA Western Division with Sheridan, Humber, and Mohawk all neck and neck in the standings.
Coach Jonker was clearly happy with his teams overall play after the game, and rightfully so as his team dominated through the stretch and accomplished what no other team has done so far this season – beat the Bruins in the Bears Den.
"Anytime you can come into the third overall ranked team in the country and beat them at home where they haven't lost all season is big. I'm proud of the effort tonight; it was a great ball game."
Although this was a big win, Jonker believes that it doesn't necessarily build momentum for his club.
"We've only lost 3 games all year," said Jonker. "We have been playing well all year and we have to hopefully come back here in three weeks (for OCAA playoffs) and beat them again but it's definitely nice to know you're capable of doing it."
Looming around the corner next for Sheridan is a matchup at Humber College with the Hawks in what will clearly be the biggest game of the season for both teams as top spot in the West is up for grabs.
Meanwhile, the Mountaineers will be on the road again as the head to Redeemer College before they return home for their final game of the regular season against Fanshawe.
GAME NOTES:
– Total FG%: MOH – 40% SHE – 25%
– Total REB: MOH – 73 SHE – 46
– 2nd chance points: MOH – 24 SHE – 14
NPH TOP PERFORMERS
Matt Fennel (MOH) 30 PTS, 7 REB, 1 AST
Andrew Cicuttini (MOH) 20 PTS, 23 REB, 1 AST
Taylor Dowhaniuk (MOH) 12 PTS, 9 REB, 10 BLKS