DeMar DeRozan – NBA All-Star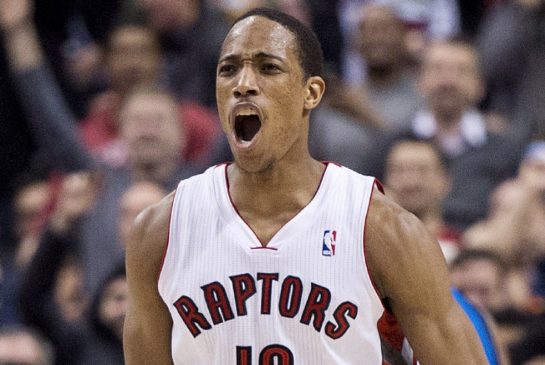 Toronto Raptors guard DeMar DeRozan has been named to the NBA's Eastern Conference All-Star team, as announced Thursday night.
The reserve selection is the first of DeRozan's career and demonstrates his growth throughout his time–four-plus years in Toronto.
Boosted by his peers and coaches to the All-Star weekend in New Orleans, February 13-15, DeRozan will represent an Eastern Conference Raptors team on target to make the playoffs for the first time in his career.
And it's happening under DeRozan's leadership and improvement in every facet of his game.
"[My confidence] is as high as it's ever been," DeRozan told NPH and assembled media in the locker room, back in October, following the Raptors final pre-season game.
"I don't feel like anyone can guard me and I don't worry as much on the offensive end, I know I can score when I want to and I can create whenever I want to or get to the free-throw line."
DeRozan's confidence was eye-opening to some at the time, but he's backed it up with career-highs in points (21.8), rebounds (4.7), assists (3.6) and steals (1.2).
Less quantifiably DeRozan has bulked up and become a strong defender, leading the team to allow just 96.7 points per game, good for the fourth-best team defence in the NBA.
He's more patient on offence, able to see the floor better and set up teammates, spot up for a jumper with improved stroke, space the floor with developing range, and toy with defenders while employing veteran moves.
And he's accomplishing all this despite the added pressure and double-teams coming.
With Rudy Gay in Sacramento, he's stepped up as the focal point of the Atlantic Division's best team.
"He's a really good player," praised Minnesota head coach Rick Adelman before a January match-up at the ACC.
"He's a player that has made himself from when he came into the league. Now he's posting up, he's taking the ball, he's shooting well, he's averaging 22 points a game. That's a pretty good duo to have with him and Kyle and I give him a lot of credit because he's gotten better every year he's been in the league."
"DeMar has grown as a young man and as a player and tonight he met the challenge," Raps coach Dwane Casey confirmed.
"Teams are going at him now defensively, double-teaming, he's taking what the defence gives him, reading the defence and really letting the game come to him."
Raptors fans should be proud of DeRozan's ascent to all-star status, all achieved while representing Toronto and progressing every step of the way.