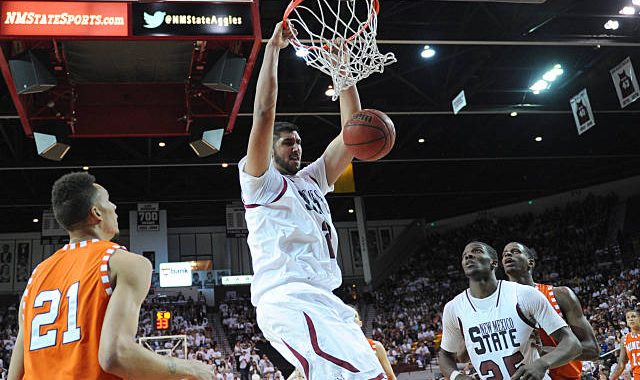 Canadians in NCAA: Sim Bhullar Back in Action, Nik Stauskas & Michigan Rolling
Headlining Thursday night's Canadian basketball action in the NCAA was the return of 7'5 Sim Bhullar to the NMSU line up.
If we look to the BIG 10, Michigan is one of the hottest teams in the country, currently 8-0 in conference play, in large part due to Nik Stauskas' stellar sophomore season, a player the we view to be a first-round draft pick.
With no Canadians in action last night, here are Thursday's top performers…with a busy night coming up!
Stay tuned on @NorthPoleHoops for your Canadian NCAA coverage.
–
Nik Stauskas (Mississauga, ON) – 16 pts, 3ast, 3 blks
The Michigan Wolverines won their 10th straight game Thursday edging out Purdue 75-66. Nik Stauskas shot an efficient 5-10 from the field including connecting on 1 of 3 three-point attempts and nailing 5 of his 6 free throws. Stauskas is averaging 7.4 more points this season as he has consistently found a way to get to the free throw line.  Compared to his rookie campaign, Stauskas' free throw attempts have gone from 2.2 attempts last season to 6.1 attempts this season. The Wolverines are currently ranked tenth in the country and sit atop of the Big ten conference.
Canadian Aggies
Renaldo Dixon (Toronto, ON) – 12 pts, 6 reb, 2 blks
Sim Bhullar (Toronto, ON) – 13 pts, 5 reb, 6 blks
Daniel Mullings (Toronto, ON) – 19 pts, 6 reb, 2 ast
The New Mexico State Aggies Canadian trio combined for 44 points as they squeezed a 89-86 win over CSU Bakersfield. Daniel Mullings only shot 5 of 15 from the floor but he was able to come through in the clutch scoring four points in the last minute. Renaldo Dixon kept his hot hand going as he scored in double digits for the third consecutive game, his longest streak of the season. Finally, Sim Bhullar returned to action after missing six games with an injury and shot a perfect 3 of 3 from the field, while converting on 7 of his 8 free throw attempts. New Mexico State has a big conference game coming up as they will try to take down the Western Athletic Conference leading Utah Valley Wolverines, who are a perfect 7-0 in conference play.
Richard Amardi (Scarborough, ON) – 13 pts, 4 reb, 2 blks
Jason Calliste (Scarborough, ON) – 21 pts, 3 ast, 1 stl
Oregon lost a tough one Thursday as Travis Wear's layup with five seconds left helped seal a 70-68 win for the UCLA bruins. Calliste has scored in double digits in Oregon's last five games including back to back 20-point scoring nights. The Detroit transfer hit 7 of his 13 attempts including 4 of 9 three pointers. Amardi on the other hand, bounced back from a poor three point outing against Washington State going 5 of 8 from the field. Oregon has struggled in conference play only winning 2 of their first 8 games.
Kevin Blake (Toronto, ON) – 12pts, 3 reb, 1 ast, 1 stl
Oakwood alum Kevin Blake was inserted into the starting lineup for the first time this season and boy did he respond. The athletic Blake was a perfect 5 of 5 from the field helping Elon beat Western Carolina 74-60. The 23 minutes Blake played was a season high.
Brandon Bos (Markham, ON) – 14 pts, 3 reb, 4 ast
South Dakota lost a 66-63 heartbreaker Thursday to North Dakota State. Although Bos only made 4 of his 14 field goal attempts, he did hit a jumper with 5:28 left to ignite a 6-0 run. However it was not meant to be as Summit league leaders North Dakota State's Taylor Braun's conventional three-point play with 30 seconds left pushed them ahead. South Dakota is now 3-3 in conference play.