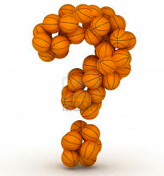 10 Questions Student-Athletes Should Ask During Recruiting Process
My dad and I talk basketball all day, every day.
Because we've worked with so many young players and have watched them compete at the next level, we always find ourselves talking about recruiting.
Last week my father Stu and I were talking about a few American and Canadian schools that have been recently calling for some of the kids we work with, and we were comparing the calls to the 30 years of recruiting he did, along with my two years in the NCAA and three years in the CIS. We talked for ever about the things coaches say to kids and the whacky reasons some kids and their parents choose schools.
We were talking about how recruiting is probably the biggest factor in regards to the overall success of a University program North or South of the border. It's so important that kids know what to ask, how to ask it, when to ask it and that they understand that some coaches will say just about anything to land a player.
In fact, one of our absolute favourite coaches, Joe Raso has recently been tweeting about recruiting and players doing their homework. Please follow him for some tremendous and humorous basketball insight @coachraso
That being said, Stu put together 10 HOMEWORK questions he feels each player should ask and have the answer to before they make their choice.
Some players who are reading this are actively being recruited by post-secondary programs…make sure you that you are making a calculated decision, it is an important one that will effect the rest of your life, on and off the basketball court.
Do Your Homework – 10 Questions
As the recruiting season heats up we know this will help many kids make a better choice!
1. Does the school have my academic program?
Do not let coaches try and steer you into another program that they say may be similar. Let's be realistic, it takes a lot to get your game to the pro level after University, so it is important to have career plans outside basketball looked after.
2. Will distance away from home be a problem?
Is it important for family to be there regularly, or is it okay for them to be able to watch on television, or online?
3. Where do I fit in with the present team?
• Never trust a coach who promises or guarantees playing time!
• Starting, coming off the bench, redshirting? Who is playing in my position and what year are they in?
• Expectations young players have for themselves are sometimes unrealistic and very few players want to be patient. It's critical to know where you fit in the big picture. Teams can only legally dress 12 players for league games and yet many teams carry up to 15 players. Do you have the ability to control your spot – 1-5 range, 6-12 or even 13-15?
4. Will you will be on Full Scholarship?
There are scholarships in Canada too…
You must understand specifically what your scholarship entails. Not all American scholarships are guaranteed for the full four years and some don't even cover summer classes. Know what your scholarship is worth and what it covers.
• They do not offer full athletic scholarships in Canada, you must have certain grades to obtain more money.
• The scholarship rules in Canada vary from conference to conference.
• $ 4.500.00 in Ontario if you have a certain Academic average coming into the University. However, it does not mean that you will get it. Some Universities can only give what they raise. You need to know how much you will get, and if you meet academic requirements yearly, if that money is guaranteed from year to year.
5. What is the record of the team that you are going to? Are they in the top half of the conference? Have they won anything worth talking about in the last 5 years?
• Where are they in relation to the rest of the country, do their players improve?
• In the Ontario University league for example, 6 of 8 teams make the playoffs so realistically this may not be a big accomplishment if they are always number 5 or 6.
• American schools should have solid win-loss records and show Conference tournament victories as proof they are a winning program when it counts.
6. What is the graduation rate of the team over the last 10 years?
This is what it is all about, if the coach or Athletic director can't answer right away, you know there are problems and that is a red flag.
7. How many players have they lost to transfer situations in the past 4-6 years and why?
Again another red flag and a great question to ask.
8. What is the number of seniors on the team and the number of recruits coming in?
If the team is always bringing in a large number of players, that should be a concern. Good programs don't normally bring in more than 3-4 players a year because they are constantly developing and there is a low turnover rate other than regular graduation.
9. Standard of excellence. Will this coach make me a better player and a better person?
Are individual development sessions, film sessions, workouts and meetings scheduled weekly? Are film sessions done often enough to create a high level of cognitive improvement? Do we lift weights regularly? Does the team have the resources, within assistants' coaches, trainers etc? Can the coach prove that his players get better? Do guys go on to the next level often?
10. Finding a feeling. Does coach just want you or does he truly need you?
• After your visit can you see yourself at this school? Do you have a good feeling about the coach, the school and the team? You will be spending a minimum of 3-4 hours a day usually six days a week with the coach and the team, hopefully you get the feeling that this is the right spot for you and he will treat you like one of his own children.
Other Helpful Hints
1. Watch the team play more than once if you can.
2. Talk to former players
3. Watch a practice
The most important thing you can do is some legit research and homework. This is a big decision to be made and you should take your time. Every coach has an A list and a B list. Its vital for you to know that you are certainly not the only one being recruited in that spot.
Are you on his A-list or his B-list? – Stu Julius *A* Game Hoops