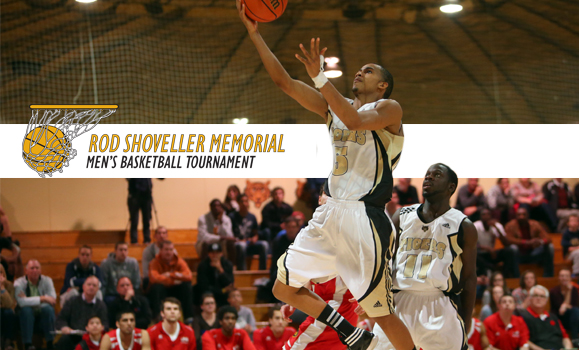 2014 Rod Shoveller Memorial Tournament Preview
The turn of the calendar always means high level basketball at the Dalplex with the Rod Shoveller Memorial Basketball Tournament. This years tournament is very unique in that 5 of the 8 AUS teams will be competing for the tournament Championship with Bishops University rounding out the competition.
The Tournament opens on January 2nd at 3:00pm with a bang of a game, as the Acadia Axemen take on the Saint Mary's Huskies.
The Axemen have been sitting at the top of the AUS for a few years and the Huskies have an attacking eye, currently holding the second spot over the third place Axemen.
Due to the demands of the second half of the season, it is not expected that either team will show all their cards in this exhibition matchup. That being said, you can be sure that both teams will be competing hard and doing some exploring and planning for the second part of the season.  This will be an intriguing game of coaching witts and player competition that will set up not only this tournament but also the second semester of Atlantic University Hoops.
The day continues at 6:00pm with another AUS heated rival as the UPEI Panthers play the St FX X-Men. These two teams play similar up tempo styles and provide many oohs and ahhhhhhs as individual teams. To add to the New Years fireworks, the X-Men knocked off the Panthers 109-106 in a double overtime thriller to close out the first semester in what could be the CIS game of the year, certainly AUS.
You can bank on it that this game will rival the hoops drama abundant every time these teams play.
The Dalhousie Tigers close out the day at 8:00pm with a game against the Bishops Gaiters. In the 2013 Shoveller Tournament, the host Tigers played their best basketball of the year in claiming their first ever tournament championship and look to use this tournament to catapult them into the second semester if play as it did last year.
As for the Gaiters, this is an excellent opportunity for them to show their prowess against AUS competition.
The Rod Shoveller Memorial Basketball Tournament is named after an exceptional human being who was committed to the sport and to those within the community. Shoveller was active on the scene, which included basketball officiating for more than 30 years, ultimately being inducted in the Nova Scotia hall of fame.
For full tournament info, please click here.