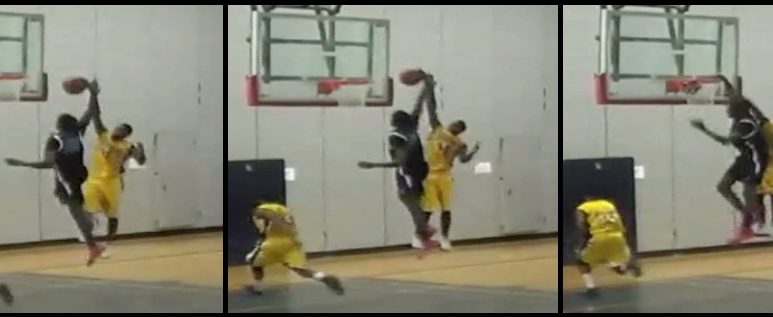 DamiAnn Prehay Puts on SHOW at Xavier Rimrocker!
DamiAnn Prehay (2015 6'5 SF/ D'Youville) out of Brampton, Ontario, Canada, has been making highlight reel plays, as you will see, throughout the Xavier Rimrocker tournament.
Prehay is an #NPHShowcase alumni that has graduated this year to The #NPHPlatform coming December 26, 2013!
Work ethic, willingness to learn, improve, and Prehay's relentless approach to the game has allowed him to climb the charts; a name you will continue hearing throughout the season.
With that being said, he is not a finished product and has work to do in order to maximize his potential.
The Xavier Rimrocker final four will have Henry Carr (Toronto) taking on Father Goetz (Mississauga), and D'Youville (Brampton) against Mount Carmel (Mississauga).
It looks like Henry Carr and D'Youville are on a crash course, for round three. FHC is 2-0 in previous game to date.
Xavier Rimrocker Results & Schedule
MONDAY, December 16
Games @ SFX
Father Goetz 81-63 Ascension
Mother Teresa 81-79 Loyola
Father Henry Carr 65-52 Dunbarton
BCSS 66-60 Xavier
Games @ Carmel
Campion 52-32 St. Martins
Mount Carmel 54-49 Martingrove
D'Youville 63-53 Notre Dame
West Humber 65-48 Monsignor Johnson
TUESDAY, December 17
Games @ SFX
Goetz 81-68 Loyola
Ascension 69-64 Mother Teresa
Father Henry Carr 48-44 Brampton Centennial
Dunbarton 50-48 Xavier
Goetz 65-60 Mother Teresa
Ascension 68-65 Loyola
BCSS 75-64 O/T Dunbarton
Henry Carr 75-37 Xavier
Games @ Carmel
Mount Carmel 48-31 St. Martin
Martingrove 64-62 Campion
D'Youville 70-25 Monsignor Johnson
Notre Dame 74-61 West Humber
Mount Carmel 65-60 Campion
Martingrove 75-31 St. Martins
Notre Dame 88-59 Monsignor Johnson
D'Youville 76-47 West Humber
WEDNESDAY, December 18
All games @ SFX
10:00 Consolation Semi #1: Martingrove v Notre Dame
11:30 Consolation Semi #2: BCSS v Ascension
1:00 Championship Semi #1: Father Henry Carr v Father Goetz
2:30 Championship Semi #2: Mount Carmel v D'Youville
4:30 Consolation Final: Cons SF Winners
6:00 Bronze Final: Champ SF Losers
7:30 Gold Final: Champ SF Winners