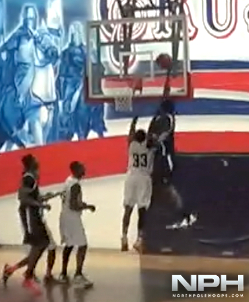 Ovie Eyamaro 1-Hand Put Back Jam on Defender!
It's called the Xavier Rimrocker for a reason.
Every December, you can expect highlight reel plays at the tournament hosted by St Francis Xavier and Mount Carmel.
Ovie Eyamaro, a 6'4 forward (2015) for D'Youville got the memo on day one, as he came down the lane to elevate for a MONSTER put back on a defender!
Eyamaro is a prospect on the rise that continues to show progress. An absolute positive on the floor, rebounding on both ends, and has proven to have a great nose for the ball.