Archbishop O'Leary: The Team to Beat in Alberta?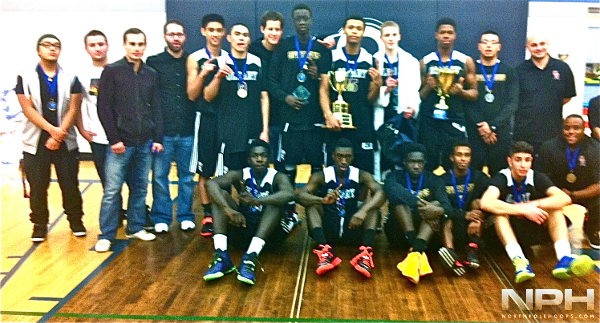 I believe that Edmonton's Archbishop O'Leary is the leading candidate (my preseason pick) to win the 4A Alberta Boy's Provincial Basketball Championship.
During the spring/summer of last year, a good friend of mine named Jeremy Posteraro invited me to coach his returning student-athletes with the West Elite Basketball Association (WEBA) in the Jasper Place Spring League.
While coaching, I had the chance to watch a few of O'Leary's games. I was always impressed with the positional play, and the Spartan's ability to execute on both ends of the floor.
As the spring/summer progressed, there was a point that I coached the (WEBA) team against the O'Leary Spartans in their own gym. Though the game went down to the wire (we took a 1-point lead with less than a minute to go) the Spartans were very composed and even seemed as if they knew something that we didn't. The truth is that even though the Spartans eked out a close victory against the WEBA team, they knew their roster would be talent laced for the start of the 2013-2014 Alberta 4A Boys' Basketball Season.
To this extent, they were right!
This past weekend, I attended the 16th annual Mike Dea Classic at St. Francis Xavier that had representation (girls & boys) from all four Canadian Western provinces. The tournament was named after Mike Dea who taught and coached at St. FX for over 30 years, and it has evolved into one of the top preseason basketball tournaments in Western Canada.
Accompanied with unique facilities (1 main gym & an additional 3 full courts with individual scoreboards attached to the school) and an extremely dedicated and hardworking staff (that includes Co-Chair Eugenia Chissotti), I consider myself one of the luckiest basketball enthusiasts in Alberta, as I have been privileged to have a front row seat to live, top-notch action on an annual basis, while also filling my belly until I couldn't walk, thanks to the annual Mike Dea Turkey Dinner.
During this year's tournament I was privileged to watch the Spartans play with their full roster. Case-in-point, I was very impressed with their 'official' roster strength (they have 2-3 quality players at every position), the defensive/offensive systems, and the level of intensity that Head Coach Ray Filice has the Spartans executing with in the preseason.
The championship game of the tournament involved what I consider the best in Alberta (O'Leary) versus the top team in Saskatchewan (the Leboldus Golden Suns) and believe me folks it was a THRILLER that ended with O'Leary defeating the Golden Suns by the score of 93-91.
The Mike Dea championship game featured some impressive individual performances including O'Leary's 6'6" wing Kuir Bulgak, who snatched the game-winning rebound and put-back after an O'Leary missed free throw with less than 30-seconds remaining.
Wyatt Beaver of O'Leary (a massive CCAA recruit) was named tourney MVP after registering a game high 36-points including 10 threes.
On the flip side, Chan De Ciman (younger brother of Colorado State's Joe De Ciman) from Leboldus put in work by scoring a team high of 28 points, while drawing praise from various coaches throughout the tournament. Chan is a 6'2 lead guard with length, and was a man amongst boys as his cool, calm, collected yet ninja like demeanor scientifically made his presence known (from anywhere on the court) when his team needed him. De Ciman will definitely attract the watchful eyes of many, and I repeat many CIS and NCAA Division-1 Coaches.
To conclude, I think it's safe to say that the Archbishop O'Leary Spartans, who currently boast a 13-0 record, are the top team in Alberta, until proven otherwise (at least they are in my books). They have a deep roster that includes numerous ball handlers, shooters, scorers, rebounders as well as athletic defenders; they are well coached and their veteran experience allows them to be calm in the face of the storm, thus, they know how to win.
In addition, they are already winners of two preseason tournaments (Calgary's District-4 & now Edmonton's Mike Dea) – look out Alberta, the Spartans are for real!
Mike Dea Skill's Competitions
Dunk Competition – winner Kuir Bulgak (Archbishop Oleary)
2-Ball Competition – winner Chan De Ciman (Leboldus)
3-Point Competition – winner Darian Smigorosky (Jasper Place)
Notes:
1. Ross Shep lead by veteran Head Coach Dave Youngs has seemed to have resurfaced and is poised to challenge O'Leary and Harry Ainlay for Edmonton supremacy. The T-Birds won their own long standing preseason tournament (the Totem Invitational) by beating the two-time Provincial Champions – the Cardston Cougars.
2. WJ Mouat from Abbotsford finished 3rd who have NPH's #4 prospect Tristan Etienne on their roster who has committed to Washington University (Pac 10 NCAA Division 1)
SIDE NOTE: Though many view the Mike Dea as a premier Basketball Tournament in Western Alberta, in my conversations with Co-Chair Jeremy Posteraro he stated that they would love to have a more holistic representation from across Canada; specifically from Ontario, Quebec and Nova Scotia.