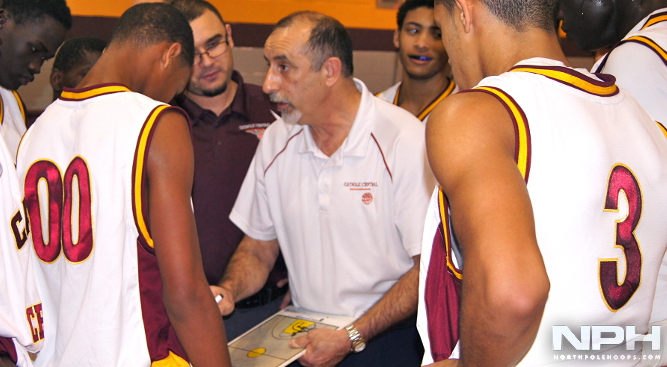 Catholic Central Impressive Early, Championship Meeting with St Mikes?
Rewind back to March 2013.
The Catholic Central Comets were holding up the AAA OFSAA banner, after rolling through the competition.
Since then, four key players have graduated in Mychal Mulder (Vincennes), Shavon Gayle (Owens), Marcus Calloo (Western) and Devonte Pearce.
But if you're familiar with the Catholic Central program, you would know that the Comets don't rebuild, they reload…while putting in countless hours of work behind closed doors.
"Of course we lost some great talent, but the kids we have this year I got to tell you, they are the hardest working kids that I've had in the off season," explained CCH Head Coach Peter Cusamano.
"In the summer, our kids were here every morning weight lifting, then we do a clinic for the kids for four hours, and then they would work for two hours after that. They were here every day," Cusamano reiterated.
As a result, the 2013-2014 Catholic Central team looks like a well-oiled machine after only two games to start of the year at the Freeds tournament–resulting in two blowout victories (70-31 over Banting, 85-56 over Maxwell Heights).
"These kids have been playing together for a long time, we've gone through a lot of wars together so they've bonded and they root for each other."
Do you think that this year's group has a chance to potentially be better than last year's OFSAA championship team?
After a pause, Cusamano replied, "okay…I watched the way we played today, and I think we are going to be really good. The difference is we have a lot more learning to do with the juniors that came up. Last year we didn't need the juniors to step up, this year we do."
No problem.
Lead by emerging star point guard Isaiah Familia, the former juniors look ready to have a major impact on this team.
"Offensively he is special, he has a great basketball I.Q. He has become more athletic and is a lot faster. I think he can be outstanding," explained Cusamano, referring to Familia.
Other impact eleventh graders include Akim Lol Ruot and Donald Mensah.
For the seniors, CCH will depend on production from the combination of Eriq Jenkins, Nyong James, Raekwon Fazekas and Malique Calloo (injured) all capable of leading the score sheet on any given night.
But what was learned from day one of the Freeds tournament is that this group plays together and for each other.
"These kids have all bought in…they are all in."
The Comets are also still in qualification for the Freeds gold.
However, they will first have to get passed Hamilton's Cathedral and then likely meet defending AAAA OFSAA champion St Mikes.
Unless of course, we witness a couple upsets.
Freeds Tournament Final Four
Catholic Central (Windsor) VS. Cathedral (Hamilton) – 12:00 PM @ CCH
St Mikes (Toronto) VS Forster (Windsor) – 12:00 PM @ Holy Names