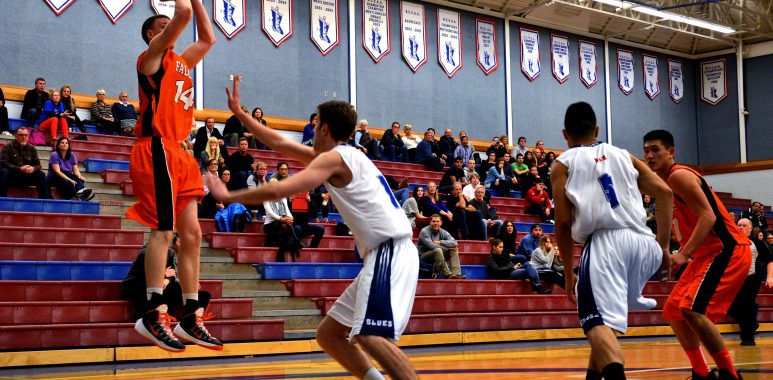 PacWest Week 4 Power Rankings
With only a single game of basketball for each team this past weekend and no resulting upsets, the rankings haven't budged since Week 3.
VIU hammered Camosun 93-51, urging me to completely disband the term 'island rivalry' from my vocabulary for the rest of the season. I'm upset to have even mentioned it in that last sentence.
Brandon Jones, third in PacWest scoring at 19.3 points per game, had a rather quiet offensive outing but still managed to put up an impressive stat line, tallying nine points, seven rebounds and 13 assists. The frontcourt duo of Jason Fortin and Seth Goodman led the Mariners in scoring at 19 and 14 respectively. Goodman and Fortin are currently the top-two rebounders in the league, with the former slightly edging out the latter 9.2 to 8.5.
VIU is torching the rest of the Lower Mainland, scoring 25.4 more points on average than their opponents so far.
But the lull in movement throughout the rankings may be short lived.
Langara easily handled Douglas 101-80 at home, behind 21 points from Garrent Ling-Lee and a slew of other double-digit outings from Elliot Mason (16 points, 11 rebounds), Jitt Lohcham (10 points), Brody Greig (10 points, 12 assists) and rookie Max Neumann (10 points, eight boards).
Douglas remains the leader of the Dungeon of Losing Records (excluding Capilano – who is better than their 2-4 margin suggests), while Langara is about to meet VIU on a collision course that will determine arguably the best team in the PacWest.
Because I cannot adequately attempt to predict the outcome, I instead offer this – Five Reasons To Get Amped Up For Langara vs VIU:
1.   The rivalry. It's a rematch of last year's provincial championship final – which Langara narrowly won 78-74.
2.   The big question. Both teams made it to nationals last year, but when Langara lost in the semifinals to Holland College, it snatched away the BC super matchup that fans out west had been hoping for. As VIU claimed national gold, people were left wondering 'What if?' Would Langara have won if they did meet again? Is it even a fair question considering the Falcons couldn't make it into the finals? These things still keep me up at night.
3.   VIU is undefeated. Right now, they're the best team in the PacWest, but the only road game they've endured so far was just a short drive down the Malahat to Camosun. Langara is 3-0 at home so far, and gave up just one home loss last season.
4.   The point guard battle. Brody Greig vs Brandon Jones is like Chris Paul vs a healthy Derrick Rose. Like Zeke vs Magic. Like Cousy vs The Big O. Basically, the two best PGs – and the two best players – in the league going head to head. A war at the one-spot comes guaranteed with admission.
5.   The coaching duel. Paul Eberhardt is a long-time legend in the PacWest, while Matt Kuzminski has vaulted to elite status after just one season at the helm due to VIU's success last year. Both coaching styles differ dramatically. The robust Eberhardt is always one step ahead of his foes, but never holds back a drop of emotion, hurtling roars towards players and referees alike – though they're often warranted. The recent former-player Kuzminski, on the other end, stays even-keeled, poised, and exudes a calm tenacity that provides a foundation to his team's penchant for suffocating defense.
Elsewhere, Quest had continued to cement their firm hold on third place with an 82-68 win over Capilano. The Kermodes benefitted from a Blues forfeit in Week 1 (in which Cap had an ineligible player listed on their roster), and backed it up with another victory on the road – minus an asterisk this time. Quest's Cartiea French-Toney had a game-high 23 points along with nine rebounds.
CBC edged Kwantlen 67-59, leaving the Eagles with a dismal 1-5 record and helping them into last place. CBC might not challenge the best teams in the league, but they've done a more than respectable job early in the season – staying competitive with the rest of the Dungeon.
But Kwantlen, in contrast, is underperforming – plain and simple. I didn't expect the Eagles to be making Langara and VIU nervous, but I sure as hell didn't expect them to be the worst team in the league. This weekend's matchups against Capilano and Quest are sure to pile on the grief.
Vancouver hoop heads are blessed this weekend with a triumvirate of local basketball action. The Tsumura Invitational takes over the Langley Events Centre on Saturday and Sunday evening, while UFV hosts UBC in Abbotsford Friday and Saturday night.
But if those games alone don't adequately feed your fix, I suggest heading to Langara on Saturday at 3 pm for what is sure to be one of the most entertaining and passionate PacWest games of the year.
Just get there early, and be prepared to stay late.
Week 4 PacWest Power Rankings
| | | | |
| --- | --- | --- | --- |
| | Rank | Prev. Rank | Change |
| VIU Mariners (6-0) | 1 | 1 | – |
| Langara Falcons (5-1) | 2 | 2 | – |
| Quest Kermodes  (5-1) | 3 | 3 | – |
| Capilano Blues (2-4) | 4 | 4 | – |
| Douglas Royals (2-4) | 5 | 5 | – |
| CBC Bearcats (2-4) | 6 | 6 | – |
| Camosun Chargers (1-5) | 7 | 7 | – |
| Kwantlen Eagles (1-5) | 8 | 8 | – |