Nick Madray Looks Set for Major Freshman Year, Grandy Glaze Back in Action!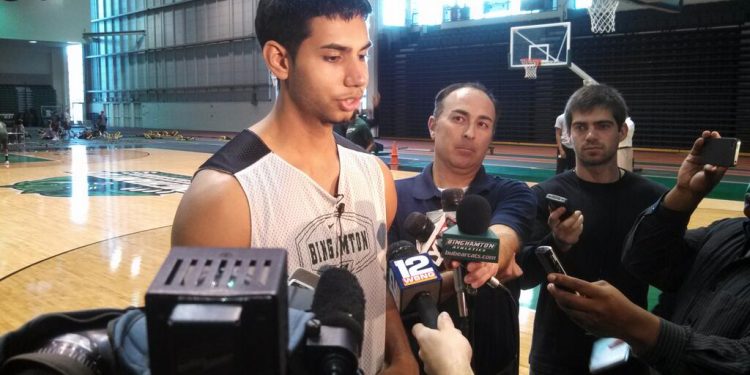 North Pole Hoops continues to track Canada's top talent in the NCAA, and on November 13, there were several standout performances. This night features a talented freshman still only scratching the surface on his potential; Nick Madray posted his second 20-point performance in a matter of three games, for the Binghamton Bearcats.
The following are the top performers for Canadians in the NCAA:
Nick Madray – The freshman out of Mississauga, Ontario continues his strong start for Binghamton. After being named America East rookie of the week, where he averaged 15.5 points and 3.0 rebounds in his first two games, the 6'9 forward registered 23 points [6-9 FG, 5-6 3P, 6-10 FT] to help give Binghamton their first victory, over Cornell 89-79. NPH #10-ranked Canadian prospect in the class of 2013.
Dyshawn Pierre ( Whitby, ON) – Posted a double-double of 14 points, 10 rebounds and two assists [5-8 FG] for Dayton in 70-56 victory over St Francis (PA). Expect the sophomore forward to lead Dayton all season, and stuff the stat sheet as he has done his entire career.
Lenny Austin (Montreal, QC) –  Registered career-high 18 points (7-11 FG, 4-7 3P) for North Dakota in blowout victory, 110-69 over Minnesota-Morris. This output could spark opportunity for added minutes in coming games.
Grandy Glaze (Brampton, ON) continues strong start to his junior year posting nine points and a game-high 14 rbs (22 mins) for Saint Louis in the 82-58 victory over SIU-Edwardsville. Glaze was NPH #7-ranked Canadian prospect in the class of 2011, behind names like Myck Kabongo, Kevin Thomas (Troy), Kevin Pangos (Gonzaga),  Kyle Wiltjer (Gonzaga), Khem Birch (UNLV), & Braeden Anderson (Fresno State). We have always admired his high-motor and will, which he is displaying through his rebounding numbers. We recently caught up with Glaze to find out he has shed 25 pounds and 7% body fat over the summer to prepare himself for 2013-2014.
Denzell Taylor ( Brampton, ON) – Following a scoreless game in his freshman debut, Taylor got back to old habits. Against Howard, the Brampton product put in 10 points, 7 rebounds and 1 block [24 mins] for Old Dominion in the 77-57 victory over Howard. Denzell Taylor is a rugged, blue-collar player that should be able to maintain this production, as he has done for the majority of his high school career.