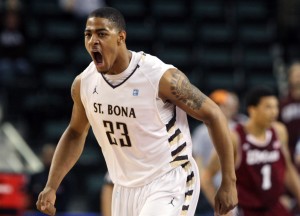 Chris Johnson, David Tyndale, Jasonn Hannibal Headline NBBL China Tour Roster
North of the Border basketball league [NBBL], fresh off an inaugural season, has compiled a group of talented free agents that have taken a trip to China for exhibition games.
From November 1-11, the NBBL team will travel to cities around the country including Yiwu, Gongyi, Loudi, Sammen, and Jiaozuo.
The following is the official roster, headlined by Chris Johnson (St Bonaventure), David Tyndale (York), Terance Licorish (Mississippi State/ McMaster University) and Jasonn Hannibal.
NBBL China Tour Roster
| | | | | | |
| --- | --- | --- | --- | --- | --- |
| Name: | Height: | Position: |  School: |  Previous team: | Home Town: |
| Chris Johnson | 6'6 | G/F | St. Bonaventure University |  St. Bonaventure Bonnies |  North Preston, Nova Scotia |
| Terance Licorish | 6'9 | F/C | Mississippi State/ McMaster University |  NBL Canada – Montreal Jazz |  Hamilton, Ontario |
| Javari Williams | 6'6 | G/F | Simon Fraser University |  NBL Australia –  Cougars |  Mississauga, Ontario |
| David Tyndale | 5'11 | Guard | York University |  York Lions |  Mississauga, Ontario |
| Tyrell Vernon | 6'0 | Guard | St. Francis Xavier University |  St. FX X-Men |  Hamilton, Ontario |
| Harvey Todd III | 6'2 | Guard | Washington Adventist University |  Washington Adventist University SHOCK |  Seaside, California |
| Jasonn Hannibal | 6'11 | Center | University of Portland |  Hopsi Polzela – UPC (Slovenia) |  Mississauga, Ontario |
| Sean Nickel | 6'6 | Forward | University of Toronto |  Toronto University Blues |  Waterloo, Ontario |
| Michael Acheampong | 6'3 | Guard | University of Victoria |  University of Victoria Vikes |  Toronto, Ontario |
| Ali Askarov | 6'1 | Guard | Redeemer University/College |  Redeemer Royals |  Hamilton, Ontario |