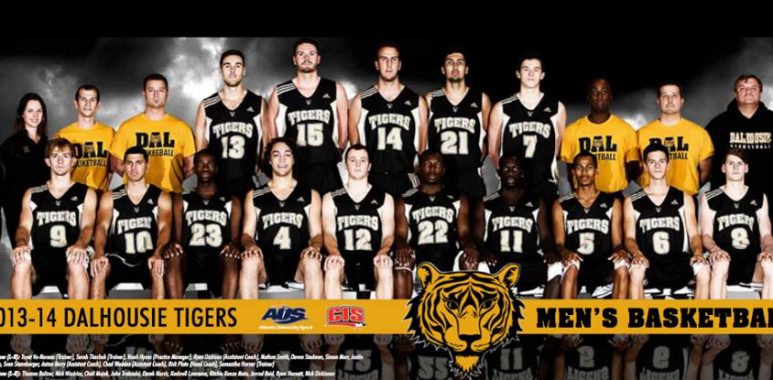 NPH CIS Team Preview: Dalhousie Tigers
Last Season:
| | | | | | | |
| --- | --- | --- | --- | --- | --- | --- |
| Overall | Pct. | Conf. | Pct. | Streak | Home | Away |
| 14-10 | .583 | 11-9 | .550 | W1 | 4-6 | 7-3 |
Head Coach: Rick Plato 1st Season
Assistant Coach: Anton Berry, Chad Wadden, Ryan Dickison
Key Players: Simon Marr, Kashrell Lawrence, Ritchie Kanza Mata
Returning Players: Simon Marr, Jarred Reid, Kashrell Lawrence, Ritchie Kanza Mata, Chidi Majok, John Traboulsi, Derek Norris, Nathan Smith and Devon Stedman.
Additions:
Justin Bhangoo – British Columbia
Nick Nissirios – Queens NY
Ryan Harnet Cornerbrook Nfld
Nick Dickinson – Coorparoo, Australia
Thomas Baltzer – Aylesford NS
Departures: William Yengue,  Hassan Abdullahi, Casey Fox
The biggest change for the Dalhousie Tigers for the 2013/14 season is in the area of bench boss. Coach Rick Plato who spent the last 25 years as an ACAA coach at MSVU has taken over the reigns. For those who are wondering, the style of play will not change much if any at all.
Plato is a hard nosed coach who demands that his teams lock down defensively and bang it out which allowed his MSVU teams to advance to Nationals almost annually.
The first major addition for the Tigers is the return of Ritchie Kanza Mata. Ritchie a lightning quick point guard who knows how to run a team and "set the table" started 17 of 21 games for the Tigers as a freshman in 2011/12 and was selected to the AUS all rookie team. To make the point guard position deeper, Coach Plato has also brought in a very dynamic player in Nick Nissirios–quick point guard who has exceptional break down skills to create his own shot and scoring opportunities for his teammates.
The Tigers will be relying heavily on fifth year senior, second team AUS all-star (2012/13) Simon Marr to be their offensive centrepiece. Plato says of Marr "he will be looked on to provide leadership and a potent inside-outside game".  In 2012/13 Marr seemed to be a guy that would get lossed in the middle of games…if he stays consistent for 40 minutes and plays with and off his strong backcourt, Dalhousie's win total will continue to mount and they will push for a top four spot.
Dalhouise played its best basketball of the year last year in capturing its own Rod Shoveller Christmas Tournament for the first time. The win was a total team effort but the guy that seemed to make key shots in these three games was John Traboulsi, who is a solid shooter and a tough defender. Traboulsi needs to step up and put his mark on each and every game the Tigers play.
The preseason and early season is an adjustment for all teams but much more so for a team with a new coach. The Tigers return a solid core of talent and add some new pieces. However, the determinant of their success will be the steepness of this learning curve, the adjustment of Coach Plato to the CIS and the adjustment of the players to the new system.
Look for Kashrell Lawrence to have a break out season after a solid rookie campaign in which he started seven of the 20 conference games. Lawrence is a solid all around player who is going to stuff the stat sheet for Dalhousie and fill some of the intangible stats that left with William Yengue.
The Tigers are hoping for the trend of the last two years to continue as first time CIS Head Coach Tim Kendrick was the AUS coach of the year in 2011/12 and Matt Skinn repeated this in 2012/13, as a 'rookie' CIS mens head coach.