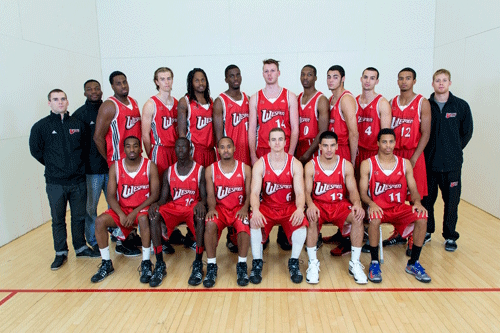 NPH CIS Team Preview: Winnipeg Wesmen
Team: Winnipeg Wesmen
| | | | | | | |
| --- | --- | --- | --- | --- | --- | --- |
| Overall | Pct. | Conf. | Pct | Streak | Home | Away |
| 17-10 | .629 | 14-8 | .636 | W1 | 11-4 | 5-5 |
Head Coach: Mike Raimbault (4th season)
Assistant Coaches: Tyler Kohut, Nick Lother, Sampson Ayeh
Key Players: Andrew Cunningham, Steven Wesley, Travis Krahn
Incoming Recruits:
Jelane Pryce
Kurtis Sansregret
Ryan Oirbans
Chris Baxter
Departures: Benny Iko, Nolan Gooding, Dom Brown, Jordan Kelly
The Winnipeg Wesmen may have exceed expectations last season by winning Canada West Bronze, but don't expect 4th year Head Coach Raimbault to start making predictions about this year's team.
"I think we could have a good year, but in terms of predictions, no idea. One day at a time. We're trying to build our team as best we can."
That's just how Coach Raimbault is. He is pretty even, he doesn't get too high and doesn't get too low in celebration or disappointment.  With that being said the Wesmen are bringing back 3 of their top 5 scorers from last season, which will help in their quest to get back to the Canada West playoffs this season.
Last year, one of the strengths of the Wesmen was their ability to beat up teams down low with their two strong and intimidating bigs Steven Wesley and Benny Iko. With Iko graduating, there leaves an opportunity for a number of players to step right in and fill a role. Wesley will be a key piece for the team this year after finishing 14th in scorning and 15th in rebounding in the Canada West Conference.
"We have added some front court depth to our roster with the likes of Jelane Pryce, Ryan Oirbains and Tynan Reyes. Benny helped space the court with his outside shooting, but our front court will be bigger and perhaps a bit deeper." said Coach Raimbault
With the front court looked after, strong recruits including the new addition of highly recruited local home grown talent  Reyes, the Wesmen will be able to battle down low with the best in the Canada West.
The Wesmen get another familiar face back into the lineup as the Canada West record holder for assists in a season is coming back. With Andrew Cunningham (NPH CIS Top 50 ranked) in the lineup the Wesmen have a strong presence at the point guard position. Cunningham will be flanked with experienced guards including Travis Krahn who shot 41.7% from three last season, 4th year senior Jordan Clennon, transfer Kurtis Sansregret who took a year off last year and now will suit up for the Wesmen.
Don't be surprised if this Wesmen team is back in contention for a CIS Final 8 spot this season. They have some strong pieces that if they come together at the right time could make a huge impact. Coach Raimbault knows it won't be easy.
"Our conference should be hugely competitive again. Some good teams will miss the playoffs again I'm sure. Every game is important."