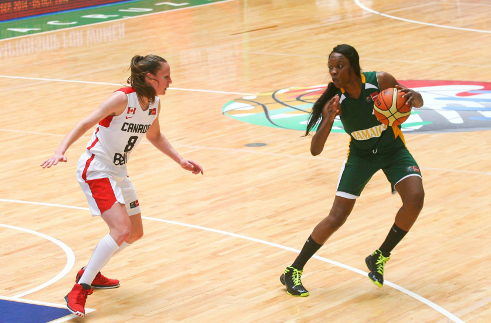 Kim Gaucher Leading The Way, Canada Stingy Defense Dominating at FIBA Americas
After having a bye on the first day of competition, Canada's Senior Women's National Team opened the 2013 FIBA Americas Tournament with a pair of dominant performances in victories over Jamaica and Chile.
The SWNT is known as one of the stingiest defensive groups in the world and they've shown why in their opening two games, holding their opponents to 10 points or less in six of the eight quarters they have played thus far.
Watching the Canadians play defense is a thing of beauty; young guards Justine Colley and Kia Nurse set the tone, pressuring the ball relentlessly almost as soon as it's inbounded. When they aren't forcing turnovers, they are forcing opposing teams to burn large portions of the shot clock just getting the ball up court. In the half court the team works almost flawlessly as a unit; helping aggressively, rarely missing an assignment and crashing the defensive boards as a team.
Through two games Canada has forced 41 turnovers, held their opponents to 29% shooting from the field and only surrendered nine offensive rebounds.
On the other side of the ball, Canada has been almost as impressive averaging 84 points per game while shooting just over 42% from the field and 36% (on 25 attempts per game) from three.
Mission, BC's Kim Gaucher has led the way for the Canadians thus far, averaging 13 points and 7 rebounds while only playing 42 minutes over the first two games. Gaucher, a 10-year veteran of the National program and the unquestioned leader of this team, operates with such staggering efficiency that it's easy to watch the games and wish that she — as arguably the best shooter in the history of the Canadian Women's program — would look to shoot the ball even more.
However, with the depth and versatility of the options on this roster, one player monopolizing the scoring opportunities is not something that is needed, nor is it something the team's offense is geared towards producing.
Another bright spot for the Canadians, and a point of emphasis during last week's camp in Edmonton, is offensive rebounding. The team has done an outstanding job of that so far, collecting 34 offensive rebounds in the first two games. It's truly been a team effort on that front as 10 different players have grabbed at least one offensive rebound through two games.
The level of competition will ramp up as Canada closes out the preliminary round with games versus Venezuela today, and group leader Cuba on Wednesday.
Canada VS Jamaica
[youtube]jM_xvyUjrSI[/youtube]