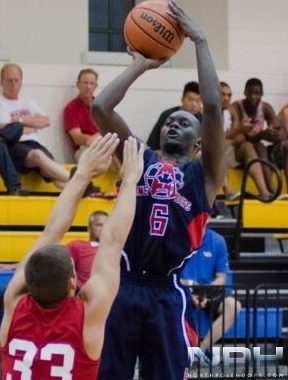 Tut Ruach Signs New Pro Deal in Czech Republic
Tut Ruach has signed a new contract overseas, inking a one-year deal with BK Nova Hut Ostrava of the Czech Republic National Basketball League (NBL), joining fellow Canadian Adam Folker.
Ruach has been an All-Star in each of his professional seasons to date. He played last season for Nässjö Basket in the Swedish Basketligan where he finished sixth in the league in scoring with 17.3 points per game, led the league in steals with 2.0 per game, and was thirteenth in assists with 3.9 per game.
The 6'2 Canadian point guard had a productive summer, continuing to develop his game and stay sharp, competing and excelling at a high level.
If you've been following along on NPH, we referred to him as possibly the best Canadian point guard available, with the accolades to back it up.
Now, Ruach will have a new opportunity to prove his worth and continue to climb the ladder in the pro ranks.
"I think it's largely up to him and his performance. It's going to be good competition to prove himself on a top tier team in the league," Ruach's agent, Matt Slan told NPH.
Ruach has undeniably been an asset for every team he's played for, and he is ready for the new obstacles that lie ahead.
"Playing in the Czech Republic will bring a new set of challenges, but I am confident that my ability and character will allow the club, and myself, to have success this season," Ruach told SSN [Slan Sports Management].
Nova Hut Ostrava finished third in the NBL standings last season and reached the semi-finals in both the league playoffs and the Czech Republic Cup.
NPH will continue to track Ruach's progress in Czech Republic throughout the season.