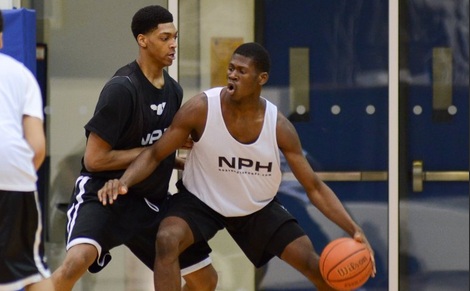 Chris Egi Transitions at Montverde, Four Official NCAA Visits Scheduled
If you've been following along, Chris Egi needs no formal introduction. But for our new viewers, the 6'9 Canadian forward is NPH #1-ranked 2015 prospect in the nation, who holds a 95% academic average and an unmatched thirst for growth.
Egi recently transferred from St Andrew's College in Aurora, Ontario to Montverde Academy in Florida to compete in a national schedule and match up against the best that America has to offer.
Chris Egi has built a strong reputation on being a defensive anchor, with his high motor, communication and elite shot blocking ability.
"He reminds me of Michael Kidd-Gilchrist in that be brings energy and relentless effort; they both compete, compete, compete…even when they have a bad game," Rae Miller, Montverde assistant & Director of Basketball operations told NPH.
Miller, who has been tracking Egi for two years, previously also coached Kidd-Gilchrist when he was at St Patrick's in New Jersey.
The comparison made to the Charlotte Bobcats rising sophomore also came up when discussing players that Egi is influenced by.
"I like Kidd-Gilchrist, I try and play with his energy. And I grew up on Chris Bosh so I like his game too." However, inspiration has also come from individuals closer to home.
"Growing up my brother," Egi laughed. "But now I'm older I've always looked up to Anthony Bennett, being the young guy on both Team Canada and Bounce."
Egi has been getting into the swing of things, since arriving to Florida in mid-August. He mentioned the tougher competition and the adjustments being made regarding pace of the game.
"Coach has been great, just staying on me all the time and making sure I play the game at a high level both physically and mentally. He's been working on expanding my offensive game," explained Egi.
With regards to graduating class, Egi is currently part of the 2015 group, however leaning towards reclassifying to 2014, but has not yet made a decision.
"I want to wait until later to officially decide."
For coach Kevin Boyle and the Montverde Eagles, Egi will provide instant impact, on both ends of the floor.
"I want to try and be the defensive backbone of the team with my communication and versatility in that I can guard multiple positions," said Egi. "On offense, I see myself scoring in transition, attacking the glass, passing well and playing out of the ball screen."
The Florida-based powerhouse program has inherited a special talent. Since making his introduction to the NPH National Rankings as a freshman, Egi has never provided a reason to drop from the number one spot, excelling in every environment he's been placed in and continuously progressing.
The timid 6'6 raw prospect that we discovered back in 2011, has broken out of his shell into a vibrant and intimidating force, while growing several inches.
What's more?
The 6'9 student-athlete is about to break out on the national scene in America. The general public, including fans and coaches alike, have been asking the question, "Who's got next out of Canada?"
Chris Egi would be one of them.
Scheduled Official NCAA Visits
Harvard, September 26-29
Vanderbilt October 3-6
Stanford October 17-19
Washington October 19-21