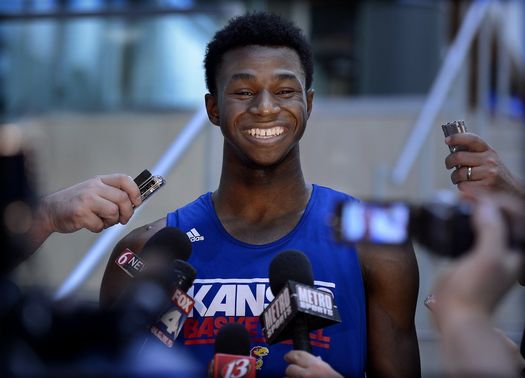 Andrew Wiggins Named Pre-Season All-American
The 2013-2014 campaign will be the most-highly anticipated season in a very long time, thanks to a Canadian with heavy expecations.
Andrew Wiggins, the #1 NBA prospect in the world enters his freshman season at Kansas, and before even playing his first college game, was named a pre-season All-American in the annual Blue Ribbon College Basketball Yearbook.
Wiggins provided the media with a signature response, understanding there is a lot of work to do this season.
"This is a great honor but really means nothing since I have yet to play a game in college," Wiggins told the Kansas City Star.
Andrew Wiggins joins an impressive group of names, also slected as pre-season All-Americans: Oklahoma State sophomore guard Marcus Smart, Creighton senior forward Doug McDermott, Louisville senior guard Russ Smith and Michigan State junior forward Adreian Payne.
Wiggins' debut will be on October 29 against Pittsburg State in Lawrence, Kansas.