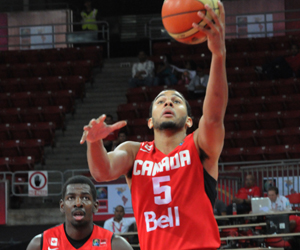 Senior Team Canada
Team Canada
Cory Joseph Fuels Canada Past Brazil
Everything starts at the point.
The lead guard spot is widely regarded as the most demanding position in the game, given the fact that the majority of possessions begin with the floor general.
For Team Canada, Cory Joseph is that guy, and against Brazil, the Pickering, Ontario native stepped up in every facet of his game.
Joseph registered a game-high 28 points on 10-of-15 from the field, to go along with nine rebounds, four assists and three steals in Canada's 91-62 blowout.
The most impressive statistic?
ZERO turnovers.
What's more striking is that Joseph logged a game-high 33 minutes of playing time, without a single giveaway.
It's safe to say that CJ had the best game of the summer for Team Canada, displaying a two-way, efficient and impactful performance. Joseph has become more assertive in his approach, going from averaging five shots per game in his first two contests [8 PPG], to 14.5 shots [17.3 PPG] in the last four games.
It is vital that Canada's back court applies pressure against the opposition, to complement the interior work of Andrew Nicholson & Tristan Thompson, while keeping the defense guessing.
In addition to Joseph's brilliance, veteran point guard Jermaine Anderson came off the bench to spark Canada with 14 points, three assists and two steals on six-of-nine from the field.
Both point guards took care of the ball, [0 turnovers] and the team as a whole was precise, posting a tournament low six turnovers collectively.
Andrew Nicholson put up 13 points in 17 minutes and Andy Rautins was solid with 12 points, three rebounds and two assists, while Tristan Thompson, Levon Kendall, Aaron Doornekamp added seven apiece.
Outside of individual performances, Canada's team defense looked as sharp as it's been all month, holding Brazil to 36% from the field.
Canada's last victory against Brazil was August 26, 2005, 101-97 where Steve Nash lead with 24 points and was named tournament MVP at the FIBA Americas Olympic Qualifier.
With the win, Canada moves to 2-1 at the FIBA Americas and will play Uruguay on Tuesday, who squeezed by Jamaica 68-66 in their opening game.