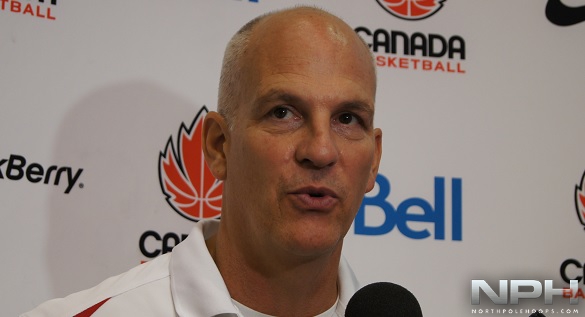 Senior Team Canada
Team Canada
Myck Kabongo, Phil Scrubb Cut From Team Canada…Will Train with Steve Nash in BC
"We have to cut to 15 for Orlando, and we informed Phil Scrubb and Myck Kabongo that they won't be making the trip."
These were the first words that Jay Triano uttered following the national team's final session at the Air Canada Centre, before travelling to Orlando to resume camp.
Myck Kabongo and Phil Scrubb are the first two cuts from Team Canada's Senior national team camp, but that doesn't mean they are cut from Canada Basketball.
When Steve Nash and Jay Triano first announced their involvment with Canada Basketball, a message they sent that I will never forget is "Making the national program inclusive."
Thus far, they have shown signs of doing just that.
"They [Scrubb & Kabongo] are still part of our basketball pool. Phil had a great summer with us, he's been on teams wearing the Canadian uniform that have gone 17-2. He was a major player for us on the student team."
Scrubb is entering his fourth year at Carleton, as the most accomplished Canadian university player in the country, holding a CIS rookie of the year honour, along with two player of the year acknowledgements.
The 6'3 point guard has shown signs of development [both physical and mental] each year. Based off his progress, don't count him out to be back in the near future to represent Canada.
Kabongo has had a tough year, both in the NCAA [having to sit out half the season] and in the NBA draft, not hearing his name called. Following the draft, NBA summer league struggles have not helped his situation, but he has publicly expressed his patience and fortitude.
The Texas Longhorn alum was receptive and persistent throughout camp from what I saw, as he would join either Greg Francis or Jerome Robinson after practice to get more shooting reps in.
"With Myck, we just think he needs a little more time and development. He's going out to Vancouver and will start working with Steve. Myck is going to learn how to be a point guard under Steve Nash," explained Triano.
The remaining fifteen players will now train in Orlando for four days, before competing in the Tutu Marchand Cup in Puerto Rico. Triano also spoke about growing as a team and isolating the athletes from any distractions within the city.
Moving forward, Canada basketball will need to further trim the roster to twelve, and decisions will only become more difficult here on out, as the next generation of Canadian prospects develop into players in the coming years.
Remaining Players
| | | | | |
| --- | --- | --- | --- | --- |
| 3 | Brady Heslip | Guard | 6-2 | Burlington, Ont. |
| 4 | Jermaine Anderson | Guard | 6-2 | Toronto, Ont. |
| 5 | Cory Joseph | Guard | 6-3 | Pickering, Ont. |
| 6 | Kris Joseph | Forward | 6-7 | Montreal, Que. |
| 7 | Andrew Nicholson | Forward | 6-9 | Mississauga, Ont. |
| 8 | Carl English | Guard | 6-5 | St. John's, N.L. |
| 9 | Jevohn Shepherd | Forward | 6-5 | Scarborough, Ont. |
| 10 | Andrew Rautins | Guard | 6-6 | Syracuse, N.Y. |
| 11 | Aaron Doornekamp | Forward | 6-6 | Odessa, Ont. |
| 12 | Myck Kabongo | Guard | 6-1 | Toronto, Ont. |
| 13 | Tristan Thompson | Forward | 6-9 | Brampton, Ont. |
| 14 | Levon Kendall | Forward | 6-10 | Vancouver, B.C. |
| 15 | Joel Anthony | Centre | 6-9 | Montreal, Que. |
| 16 | Philip Scrubb | Guard | 6-3 | Richmond, B.C. |
| 17 | Junior Cadougan | Guard | 6-1 | Toronto, Ont. |
| 18 | Devoe Joseph | Guard | 6-4 | Pickering, Ont. |
| 19 | Kyle Landry | Forward | 6-9 | Calgary, Alta. |