Development Men's National Team Off to China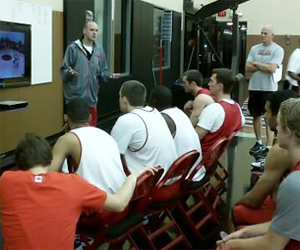 Toronto, Ont. – In preparation for the FISU Summer Universiade, 14 players will join the Development Men's National Team (DMNT) as it travels to China for the 2013 Four Nations' International Invitational Tournament.
The competition will see Canada face the United States, Latvia and host country China as the squad travels across the nation. The teams will play in Kaixian, Huaihua and Wuqi over the course of two weeks.
The rigorous schedule will feature the teams playing three games in three days in each city with a single travel day in-between. The assistant general manager and executive vice-president of Canada Basketball's Senior Men's Program, Rowan Barrett, sees the compact timeline as a "unique learning and training opportunity where the team will gain invaluable experience against some of the elite teams in the world."
Through their participation, the countries competing in the Four Nations' International Invitational Tournament have shown their continued dedication to the promotion and growth of the game across the globe. The student-athlete teams from Canada and the United States will meet again on the court at July's World University Games in Kazan, Russia.

2013 Development Men's National Team – Exhibition Tour Roster
| | | | | |
| --- | --- | --- | --- | --- |
| No. | Name | Position | Height | Hometown |
| 4 | Kevin Pangos | Guard | 6-1 | Holland Landing, Ont. |
| 5 | Brady Heslip | Guard | 6-2 | Burlington, Ont. |
| 6 | Kyle Wiltjer | Forward | 6-9 | Portland, Ore. |
| 7 | Melvin Ejim | Guard | 6-6 | Toronto, Ont. |
| 8 | Thomas Scrubb | Forward | 6-5 | Montreal, Que. |
| 9 | Mangisto Arop | Guard | 6-6 | Edmonton, Alta. |
| 10 | Laurent Rivard | Guard | 6-5 | Saint-Bruno, Que. |
| 11 | Philip Scrubb | Guard | 6-3 | Richmond, B.C. |
| 12 | Dwight Powell | Forward | 6-9 | Toronto, Ont. |
| 13 | Jordan Bachynski | Centre | 7-2 | Calgary, Alta. |
| 14 | Murphy Burnatowski | Forward | 6-7 | Waterloo, Ont. |
| 15 | Owen Klassen | Forward | 6-10 | Kingston, Ont. |
| 16 | Daniel Mullings | Forward | 6-2 | Toronto, Ont. |
| 17 | Grant Mullins | Guard | 6-3 | Burlington, Ont. |

2013 Four Nations' International Invitational Tournament Schedule
| | | | |
| --- | --- | --- | --- |
| Date | Opponent | Location | Time (ET) |
| June 8 | United States | Kaixian, China | 8:30 a.m. |
| June 9 | China | Kaixian, China | 7:00 a.m. |
| June 10 | Latvia | Kaixian, China | 7:00 a.m. |
| June 12 | China | Huaihua, China | 7:00 a.m. |
| June 13 | United States | Huaihua, China | 8:30 a.m. |
| June 14 | Latvia | Huaihua, China | 7:00 a.m. |
| June 16 | United States | Wuqi, China | 8:30 a.m. |
| June 17 | China | Wuqi, China | 7:00 a.m. |
| June 18 | Latvia | Wuqi, China | 7:00 a.m. |

2013 Development Men's National Team – Exhibition Tour Staff
| | |
| --- | --- |
| Name | Position |
| Jay Triano | Head Coach |
| Dave Smart | Assistant Coach |
| Pete Guarasci | Assistant Coach |
| Sam Gibbs | Therapist |
| Chris Cheng | Team Manager |
| K.C. Beard | Video Coordinator |
| Scottie Stats | Team Statistician |