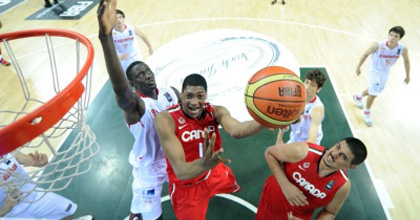 Cadet Team Canada
Team Canada
Team Canada Cadet Roster Announced: Breaking it Down
Canada Basketball released the Cadet National Team roster yesterday; this team will be landing in Uruguay, in preparation for game one of the FIBA Americas U16 championships, tipping off against Puerto Rico June 11.
When looking at this roster, the first thing I noticed is good overall size and versatility, particularly at the wing and forward positions, which will be a strength for Canada.
Inside Presence
Nolan Narain and Eddie Ekiyor will be relied on to protect the paint and clean the glass; both strong rebounders that will likely provide Canada with many second chance opportunities. In addition, over the course of their young careers, they have proven to be good passers out of the double-team.
Point Guard?
The point guard position is integral for the success of any team…the question is, who will be the floor general for the Canadian Cadets?
The obvious answer in my mind is Jamal Murray. While known to the public to be more of a scoring guard [as evidenced by 24 points at Jordan Brand Classic] Murray has the skills, I.Q, experience and personality to man the point. Murray can score the ball with the best of them, however he has told us on multiple occasions about his love for distributing.
You could also expect Justin Jackson to take on the role of  "point-forward" initiating offense and creating for others, particularly in transition off defensive rebounds, where Jackson has the ability to take it coast-to-coast.
Last summer on his international debut, Jackson averaged 11 points, six rebounds and an assist. The 6'6 wing was the youngest player on last year's team, and highlighted his world championship experience with a 23-point, seven-rebound explosion against China.
Marcus Ottey has built a reputation on his slashing and athleticism, but also expressed interest in transitioning to the full time point. This could be an opportunity for him to rise to the occasion.
Scoring Options
There is no shortage of scoring options on this roster; from those already mentioned, to Brandon Cyrus, Koby McEwan, Jerome Desrosiers, Malik Turenne and Tyrell Leotaud– it will be very interesting to see how this plays out, and how Head Coach Dave DeAveiro will distribute minutes to kick off the tournament.
Surprises
International basketball is such a unique experience for players, and the same can be said for spectators. We are watching the best talent in the world go to battle for national pride. Due to the fact that it's still cadet basketball, this tournament could be a coming out party for someone. Maybe the Quebec contingent in Jerome Desrosiers? Maybe.
However, an important principle to keep in mind for players…TEAM SUCCESS BREEDS INDIVIDUAL SUCCESS.
The FIBA Americas U16 Championship for Men will be broadcasted live online at fibaamericas.com.
2013 Cadet Men's National Team
| | | | | |
| --- | --- | --- | --- | --- |
| No. | Name | Position | Height | Hometown |
| 4 | Brandon Cyrus | Forward | 6-4 | Oakville, Ont. |
| 5 | Koby McEwen | Guard | 6-2 | Toronto, Ont. |
| 6 | Malick Turenne | Forward | 6-5 | Gatineau, Que. |
| 7 | Jerome Desrosiers | Forward | 6-6 | Montreal, Que. |
| 8 | Jamal Murray | Guard | 6-3 | Kitchener, Ont. |
| 9 | Eddie Ekiyor | Forward | 6-8 | Ottawa, Ont. |
| 10 | Kalif Young | Forward | 6-7 | Toronto, Ont. |
| 11 | Marcus Ottey | Guard | 6-1 | Ajax, Ont. |
| 12 | Justin Jackson | Forward | 6-6 | Ajax, Ont. |
| 13 | Kevin Hamlet | Forward | 6-6 | Scarborough, Ont. |
| 14 | Nolan Narain | Centre | 6-9 | Hamilton, Ont. |
| 15 | Tyrell Leotaud | Forward | 6-5 | Ajax, Ont. |

2013 FIBA Americas U16 Championship for Men – Qualifying Round Schedule
| | | |
| --- | --- | --- |
| Date | Opponent | Time (ET) |
| Tuesday, June 11 | Puerto Rico | 8:00 p.m. |
| Wednesday, June 12 | Chile | 4:00 p.m. |
| Thursday, June 13 | Uruguay | 8:00 p.m. |