Tyler Stone Commits to Howard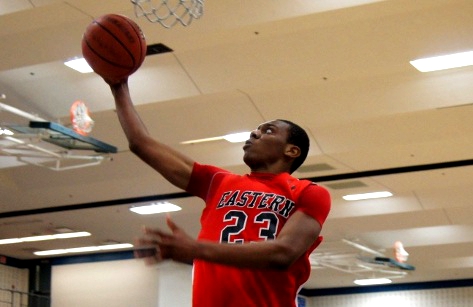 It didn't take long for Tyler Stone to make his mark on the 2012-2013 high school season when the #2-Ranked Eastern Commerce went to battle against #1 Henry Carr in the pre-season. Stone was an absolute monster posting 14 points, eight rebounds and eight blocks.
Despite a shortened season for public schools, the 6'7 forward has still managed to secure a full scholarship to Howard (NCAA D1) and will play in the Mid-Eastern Athletic Conference (MEAC).
"Howard has a great coaching staff, we are bringing in a really good recruiting class thats expected to make some noise and its a top notch academic school," replied Stone, when asked about his decision to commit to Howard.
Stone is a big defensive presence with his length and athleticism, one of the top Canadian shot blockers in 2013, with a developing offensive game. After being under recruited for most of the season, Stone is content with where he's at. He also had offers from Buffalo and Maine.
"It feels really good, I'm very thankful to have such good coaches in my circle to lead me in the right direction."
One of those coaches is Kevin Jeffers, the bench boss at Eastern Commerce, who described Stone early on as underdeveloped and overlooked.
"When others didn't see it, we did. Hence we put in the work and developed him; Instilled the toughness, desire and commitment needed to excel." There will be minutes for Stone to grab says Jeffers but, "the mentality is we make our own opportunities, out work the next man. Earn it."
Stone is a big producer, with a low-key type of personality that doesn't demand the attention…which he is absolutely fine with.
"Being under recruited doesnt bother me much its just more motivation to do better."