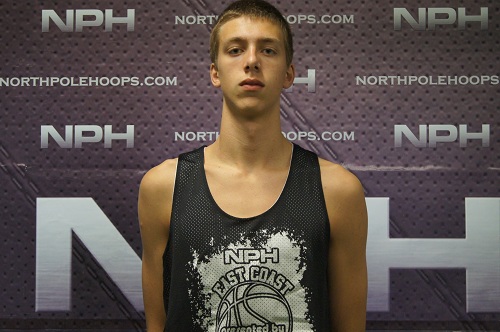 Canadian Recruits Troy Reid-Knight, Erik Nissen Join Maine Black Bears
The Maine Black bears have reloaded with Canadian content, following the loss of the America East leading scorer. With Justin Edwards (Whitby, ON) transferring, Maine looks to collectively fill the void, while also bringing in a pair of new Canadians.
Troy Reid-Knight and Erik Nissen are officially Black bears; Reid-Knight a guard from Vaughan, Ontario and Nissen a versatile forward out of Quispamsis, New Brunswick.
UM Assistant Nate Philippe, who brought in Justin Edwards and is responsible for the recruitment of Canadians, understands the depth of talent in the region and will continue to search for the diamonds in the rough.
"It's important for me to recruit Canadians and provide opportunity…it's still largely underrated and untapped but guys like Andrew Wiggins, Anthony Bennett, Tristan Thompson are changing the image of Canadian basketball," explained Philippe.
"It's not a secret anymore, it's starting to gain more respect and credibility," referring to the scene that is north of the border.
Reid-Knight (Thornlea) will bring a strong defensive presence at the guard position, in addition to high I.Q and three-point efficiency, an area Maine has been lacking in.
"Troy fills some key holes. His strengths play into what we're looking for…his ability to defend, well known as a locked down defender; a tough hard-nosed kid that can take opposing guards out of the game."
The 6'1 lead guard also brings a strong resume, having excelled at the highest levels, playing alongside Andrew Wiggins and capturing an OFSAA title with Vaughan, performing on the EYBL circuit with CIA Bounce and ending off his high school career at Thornlea where he has also been able to thrive, alongside a talented group.
Simply put, TRK has been consistent in every playing environment on every level and will be expected to contribute immediately at Maine .
On the other hand, Nissen is a player that not many have heard of stateside, but could be a pleasant surprise for the Black bears.
"Erik is definitely an underrated guy, a diamond in the rough, as New Brunswick isn't known to be a traditional basketball hot bed," said Philippe.
Nissen is the top prospect out of Atlantic Canada, was a major producer for Team New Brunswick at nationals and a large part of the success at KVHS.
The East Coast product is a 6'9 athletic and versatile forward with the ability to shoot it and take defenders off the dribble from inside the three-point line. Philippe raved about his skill set, versatility and his high motor.
"For a young big kid he wasn't soft; he was tough, he plays hard, dives for loose balls and attacks the glass."
With the graduation of Canadian 6'9 big man Mike Allison (Lynden, ON) and the aforementioned transfer of Edwards, minutes are certainly up for grabs for the new Canadian duo.