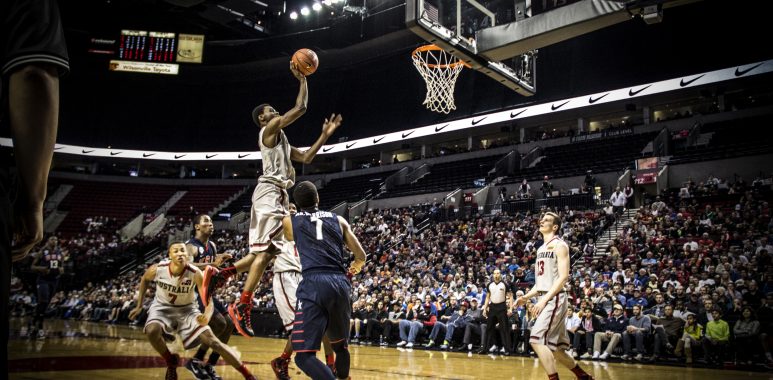 Canada Basketball Discussion: Building An Identity
PORTLAND, Ore. – Saturday's Nike Hoop Summit was certainly an amazing showcase of international basketball talent. But, for Canadian fans, it may have also provided a glimpse into the future of Canada Basketball.
Andrew Wiggins finished with a solid, if unspectacular, line of 17 points, nine rebounds and four assists in the World Team's 112-98 victory over Team USA. And, while the Vaughan, Ontario native showed flashes of brilliance, and is billed as the centerpiece of our National Team program going forward, it's his unselfishness and willingness to buy into a team concept on both ends of the court that stood out all week.
With some of Canada Basketball's key decision makers on hand, it's seemed to be the perfect time to discuss the nation's basketball identity. Senior Men's Head Coach Jay Triano took in two days of practice, Assistant GM/Executive VP Rowan Barrett was in attendance, and of course the World Select team was coached by Roy Rana — who also leads Canada's Junior Men's National Team.
A common theme that came up in discussions was the number of high level athletes that Canada is producing, and how that affects the style of play going forward. While Jay Triano noted that he is leaning towards a style that is "more American, but adaptable", Roy Rana was quick to clarify that an American style does not necessarily mean an isolation heavy offence, "We want to play good basketball," said Rana. "Maybe we'll be a little more pressure based defensively, maybe we want to score a little bit more out of our defense and create turnovers, and take advantage of that type of athleticism."
Rana could have easily been speaking of the game that his World Select Team had just finished playing, where they used a mixture of defenses, were able to get out in transition for easy baskets against a very athletic USA team, and still ran a simple but structured half-court offense when needed.
Triano also noted that any discussion surrounding style of play has to take into account the fact that more and more Canadian players – and especially the nation's top players – are coming up through the American High School/AAU system and are playing professionally in the United States.
"Most of our players now, and as we build for the future, are going to be NBA caliber players," said Triano."We're going to play to their strengths, that is the direction we need to go."
Rowan Barrett, who's had a chance to see Canadian talent at every level, added "We're an athletic country, throughout all of our age groups. Just thinking basketball, you have to figure out a way to leverage that on the defensive end as well as the offensive end."
Barrett also noted that the quality of top level basketball athletes that Canada is producing rivals any country, even the United States.
"You benchmark what you see with the Americans…we have athletes much the same as them at this time, maybe not in the depth of the numbers, but within the numbers that we have, we do have a strong base."
Barrett's feelings were echoed by Rich Sheubrooks, a Global Basketball Consultant for Nike and the Executive Director of Global and Pro Scouting for the Utah Jazz. Sheubrooks, who spends the majority of his time evaluating talent across the globe, flashed a huge smile when asked about Canadian basketball.
"It's amazing what's happening in Canada," said Sheubrooks "When you look the breakdown of the number of players and then the number of elite players that have gone on and played at the next level, it probably can match any country in the world."
While there has certainly been a sea change in Canadian basketball over the past few years, it appears that we now have the personnel in place – on the court, behind the bench, and in the front office – to lead Canada Basketball towards global prominence.
In the locker room post-game, Coach Rana added one final thought: "I think if we (as a country) can play the way these kids did tonight we're going to be pretty successful."
With a busy summer ahead – the Student, Cadet, Junior and Senior Men's national teams are all in action – we'll have a much better idea of where Canada Basketball stands, from a global perspective, come September. However, it appears that going forward we are in very good hands.