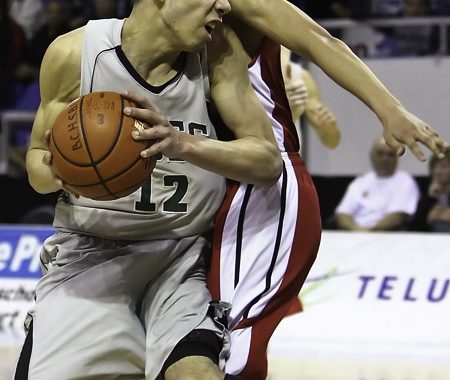 Jadon Cohee and Walnut Grove Back On the Hunt for Gold
LANGLEY, BC–After speaking with coaches and players in the BC community, it became clear that St. Georges has been playing their best basketball of the season throughout the provincial championships; the only problem for the Saints in the semi-final was that Walnut Grove has been playing in the same gear.
Lead by 2014 guard Jadon Cohee, Walnut Grove was able to pull away in the fourth quarter after a very tightly contested game to defeat the Saints 71-60.
St Georges took their first lead 49-48 with 7:25 left in the game, however Cohee was able to respond with pivotal plays on both ends down the stretch to keep the Gators in control. Cohee posted a game-high 24 points, eight rebounds, seven assists and five steals in the victory.
Although the team did not collectively shoot a high percentage from the field (34%), multiple players stepped up for Grove throughout the game including Brad Hoffman (in the final minutes), Josh Mayorga, Paul Getz and Sam Shin.
"We're so balanced, everyone on our team can score…we're brothers, we play so much for each other and we don't care who has the big game. We do what it takes to win," Cohee stated in the post-game.
Mayorga and Getz did a great job defensively on Urquhart making entry passes difficult to receive, while being physical inside. They limited Urquhart to a tournament-low 15 points, to go along with his 12 rebounds.
"We practice so hard and it's so physical so we're used to this," said Cohee.
Last year, the Gators came extremely close the provincial title, but were heart broken by Terry Fox on a Jesse Crooks pull up jumper. Walnut Grove has been on a mission ever since.
"At the time, I thought it was the worst moment of my life, but it was really a blessing in disguise, it just made me work harder."
On the other end of the championship game waits a team that has been together since the fifth grade. The WRCA Warriors have been waiting for this moment just as much, if not more. Tyus Allen, the lead guard for White Rock explains.
"We've worked too hard to come here and lose…I've been waiting for this for as long as I can remember, since I was five years old watching my dad's team play in the finals."
Who wants it more? We'll find out tonight.
8 PM Pacific Time, the Langley Events Centre is going to be rockin!
NPH Top Performers
Walnut Grove
Jadon Cohee- 24 points, 8 rebounds, 7 assists
Paul Getz- 16 poimts, 8 rebounds
St Georges
Tylon Barker- 18 points, 7 rebounds
Drew Urquhart- 15 points, 12 rebounds
Deklan Chung- 15 points, 6 rebounds