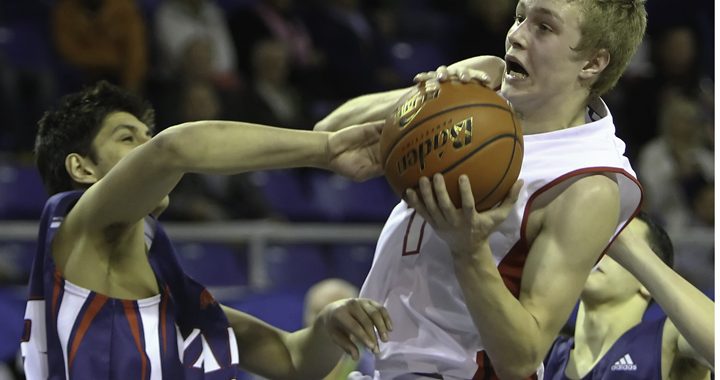 Sophomore Guard Ethan Scott Provides Spark, Drew Urquhart Another Big Game for St Georges
LANGLEY, BC–Entering into the game we knew a tenth grade guard was going to have a huge impact on the outcome, but not many of us would have guessed it would be St. George's sixth man Ethan Scott.
In a performance that's been building all year, the 6'0" 2015 point guard put on a show. Scott caused havoc on defense, got into the lane with creative moves—including a lethal spin that he displayed at least twice—and led his team down the stretch with his intense but calming demeanour. Scott provided the needed spark for St Georges to put Yale away for the eventual 96-85 victory.
After going scoreless in 10 minutes against Claremont in the opener, Scott found his touch against Yale pouring in 19 points on 8/11 from the field and 2/3 from three in only 19 minutes of work. The 2015 guard has shown flashes of brilliance all year, but has struggled at times to reign in his game. Scott sees the floor extremely well, but he's been prone to forcing tempo or squeezing passes into areas that aren't there. His scoring ability has always been apparent, but even if you discount the big numbers he put up today, this was the best game we've seen him play all year.
Credit Saints' head coach Bill Disbrow and the rest of his staff for giving Scott room to make mistakes and learn from them. This seems to be a common theme for Saint Georges, as we've seen other players—most recently guard James Choi—rebound from poor performances to play well and with confidence. Saint Georges is playing their best ball of the year right now and tonight's semi-final game against Walnut Grove is going to be a battle.
Also for Saint Georges, 2014 Drew Urquhart had another big game, finishing with 27 points and 20 rebounds. The silky smooth 6'7 forward also showed off his athleticism, catching a perfectly thrown lob from guard Deklan Chung and throwing it down with two hands. Chung also put together a nice game, scoring 23 points and adding 4 assists while playing all 40 minutes.
For Yale, 2013 forward JJ Pankratz led the way with 26 points on 10/18 shooting and 4/7 from three. Outside of Pankratz, however, Yale struggled shooting the ball. As a team they shot 32/93 from the field and 6/31 from three. 2015 guard Jauquin Bennett-Boire put together a nice game on the stat sheet, finishing with 28 points and 16 rebounds, but he forced the action at times and failed to convert on a number shots that we've seen him comfortably make in the past.
In what promises to be an entertaining game, Yale faces off against Burnaby South today on the consolation side of the bracket.