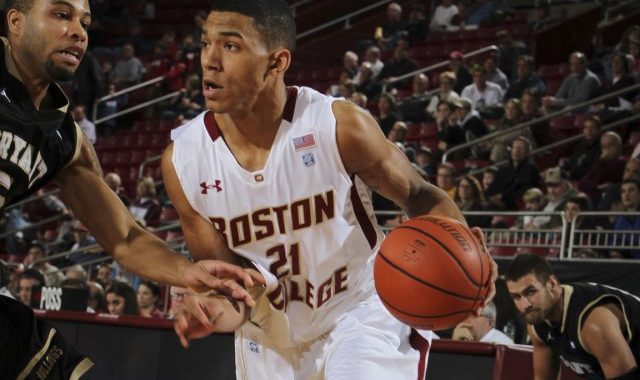 Olivier Hanlan Becomes First EVER Canadian ACC Freshman of the Year
The Atlantic Coast Conference is one of college basketball's most prestigious leagues. Many of the game's most famous names have played their collegiate ball in the ACC. From college and NBA greats like Ralph Sampson, Michael Jordan to Grant Hill and Chris Paul they've all made a name for themselves in the ACC.
The list of ACC rookies of the year is also as impressive as any other conference. Chris Bosh, Chris Duhon and Tyler Hansbrough have all hoisted the Freshman of the Year award, and went on to NBA careers.
As eye popping as the list above is, it's hard to believe that a player winning the award in the year 2013 can claim an even bigger part of history than those who have won it before him. Oliver Hanlan not only became the first ever Canadian to win the ACC freshmen of the year award, but he also became the first player in Boston College history to claim the honour. Hanlan was NPH #5-Ranked Canadian prospect in the class of 2012 only behind names like Anthony Bennett and Nik Stauskas, Naz Long and Dyshawn Pierre.
The Eagles moved over to the ACC from the Big East in 2005, and with them brought a boatload of tradition. Still trying to carve out an identity in their new conference, the Eagles have been looking for someone to help them compete at a high level in one of the toughest basketball conferences in the NCAA.
Hanlan may be a big piece to that puzzle. The Aylmer, QC native averaged 14.6 points, 4.2 rebounds and 2.3 assists in 31 regular games. Hanlan finished in double figure scoring in nine of his last ten games, including his season-high 26 points, which came in a 69-58 win against Maryland.
Hanlan and the Eagles will now turn their attention to the ACC tournament. Their first test will be this Thursday afternoon as they take on the Georgia Tech Yellow Jackets, and if the way Hanlan ended the season is any indication, he is just getting started on putting his mark on the conference.
For now we can just be happy with the maple leaf imprint Hanlan has placed on the ACC Freshman of the Year trophy.