Andrew Wiggins EXPLODES for 57 points, 13 rebounds, 4 blks, 2 stl…Message Sent.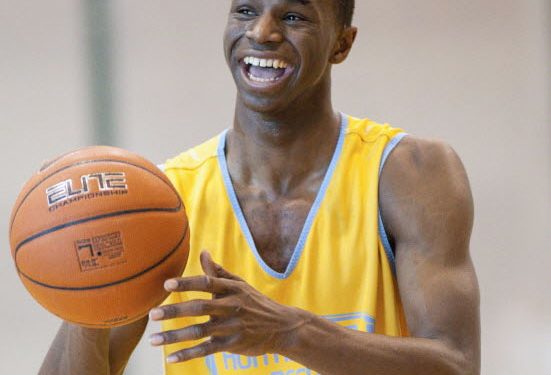 It has been a great pleasure to follow the progress of Andrew Wiggins since his days in Canada at Vaughan Secondary years back. In this country, he was the big man on campus…in America, nothing has changed.
[youtube mcabRjrD2k]
Wiggins is undoubtedly the number one player in the world on the high school level, and could quite possibly be the best player not in the NBA…he is that good.
Want to know the scary part? The best is yet to come.
In basketball circles, the consistent knock that I hear on the 6'8 swing man has been "poor body language" or a lack of consistent intensity. Truth be told, you cannot hold this to a high school player that is dominating his competition. Simply put, he is bored and needs to be tested.
Last summer at Peach Jam in Georgia, for the first time ever, I witnessed Wiggins play with a fire that has never been seen from him before and the test came in the form of highly ranked Julius Randle — a monster in his own right.
It was the best amateur live game that I've EVER watched, an electric atmosphere with standing room only. Every high major college coach was in attendance and media swarmed for seats in anticipation for the showdown of the summer — Andrew Wiggins VS Julius Randle.
The result?
Wiggins ended with 28 points, 13 rebounds, 3 blocks and the overtime victory, against Randle's 15 points, 13 rebounds and 4 assists.
Now to speak on the present. Andrew Wiggins EXPLODES for 57 points, 13 rebounds, 4 blks, 2 stl on 24/28 FG in a Huntington victory over Marietta College JV team. This time there was no Julius Randle or any highly ranked opponents…this time it was a test from the media.
In an article written earlier in the day, shots were taken at "The Canadian Jordan" as he was referred to.
"He was 100 percent pissed at the SI article degrading former players from Canada, his family and him personally," Huntington Head Coach Rob Fulford told SNY.tv.
This report resulted in a Wiggins eruption, something he is capable of doing on a consistent basis (to some degree).
Such a major talent will have many obstacles in his career, and as his name continues to be magnified, so does his performance.
All the greats have been tested…from Michael Jordan to Kobe Bryant to Lebron James; all have answered.
Wiggins answered tonight.