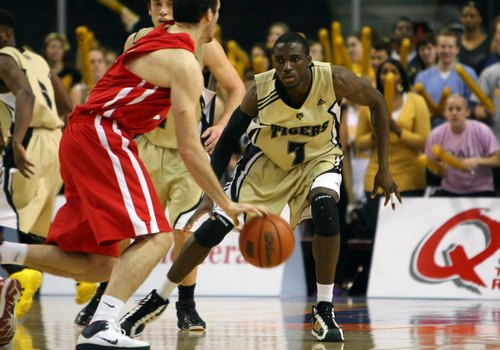 CIS In Review: Dalhousie Clips SMU, McMaster Chasing Lakehead, Jameson Tipping Another Big Game
Dalhousie 82 Saint Mary 65
After back-to-back close battles in their first two meetings, one needing overtime to decide a victor, the Tigers take the rubber match in blow out fashion. Jumol Mullings led the way for the Tigers with a team-high 17 points, and William Yengue added 16 points in Dal's eight win of the year.
SMU put up a game-high 23-point, 7 rebound night out of Kevin Thomas, and 15 points off the bench from Jordan Lee but it wasn't enough to hang with the Tigers. 18 Huskies turnovers leading to 17 Dalhousie points and a dismal 37% field goal percentage saw the Tigers lead balloon to as many as 25 points leading to the eventual blow out.
McMaster 91 Guelph 65
The Marauders are peaking at the right time. Mac is now riding a four-game winning streak and are now hot on the heels of Lakehead for second spot in the OUA West division.
A balanced scoring attack that saw four Marauders hit double figures was the recipe for success, lead by Taylor Black's 20 points. MAC also got a double-double from two of their starters, Nathan McCarthy with 16 points and 13 rebounds as well as Joe Rocca with 16 points and 10 rebounds.
The Marauders have three games remaining in their season to catch Lakehead for second spot in the OUA West division, and their final two games are against those same Thunderwolves.
Brock 80 Laurier 70
It was a potential OUA East playoff matchup as the Badgers and Golden Hawks locked horns for the second and final time this season. The Brock Badgers got revenge in their rematch with Laurier on Wednesday night after losing to the Golden Hawks by 15-points earlier this season 85 – 70.
Jameson Tipping posted a double-double of 21 points, 14 rebounds leading four Badgers who posted double figure in scoring.  Tipping has elevated his play in the last three games averaging 19.7 points and 10.3 rebounds over that span.
Waterloo 83 Western 66
The two last place teams in the OUA West were also in action Wednesday with the Warriors coming away with the 17-point triumph.  The Warriors faced little resistance on the offensive end finishing the game shooting 50% from the field. 13 three-point field goals also fell through the hole for Waterloo, which made for a nightmare of a game for the Mustangs.
Mike Helsby's season-high 25 points on 8 of 10 shooting from the field gave the Warriors the spark they needed to grab their fourth win of the year. Helsby's also plucked down 8 rebounds and dished out 6 assists to finish with a nice little stat line.
Tonight's Games
Acadia @ ST FX 8 P.M. AST
Acadia is looking to extend their four-game winning streak as they visit the X-Men. With six games remaining for the Axemen chances of catching unbeaten Cape Breton may seem far-fetched but Acadia will have a chance to close the gap with two games against Cape Breton still on their schedule.
Defence is the Axemen's calling card as they lead the AUS only allowing a stingy 68.7 points per game. Look for a defensive battle if Acadia has its way.
McGill @ Laval 8 P.M. EST
McGill is coming off an emotional win against their rivals Concordia in their last outing and are a win away from grabbing a share of top spot in the RSEQ.
Laval have lost five of their last six and were blown out by the Redmen in their first meeting 80-58. Don't hold your breathe for an upset here.