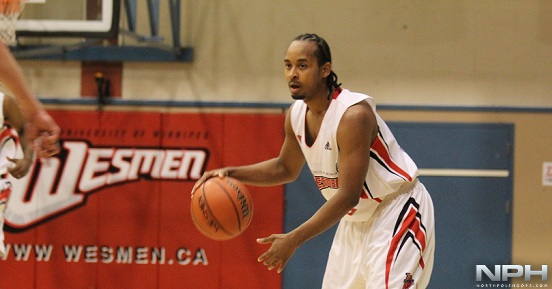 #1 Carleton Defeats #6 Ryerson, Manitoba Creeping Up, Lakehead Key Victory over #4 Windsor
An action packed Friday featured two OUA marquee match ups with #1-Ranked Carleton clashing with #6 Ryerson and #4 Windsor visiting #10 Lakehead in a hostile environment. Paul Gareau and Connor Burns had major nights for Regina, however it wasn't enough. AS the season winds down, each victory is critical as teams jockey for position.
Carleton 75 Ryerson 57
The young Rams are still a work in progress. Under Head Coach Roy Rana, Ryerson has shown great improvements on and off the court. The basketball culture around Ryerson is strengthening, with the program gradually turning it into a potential CIS powerhouse. However, as they found out on Friday nigh,t they still have a lot of work to do to catch up to the Carleton Ravens.
For the second time this season the Ravens made the now 14-3 Rams look pedestrian, but then again the number one team in the nation does that to a lot of good teams. Thomas Scrubb and Tyson Hinz were too much for the Rams. Scrubb finished with a nearr triple double of 15 points, 16 rebounds, and 7 assists, while Hinz added a team-high 18 points and 5 rebounds. Freshman Kewyn Blain continued to prove why he is regarded as one of the country's best reserves with another efficient 15-point performance on 5 of 7 shooting from the field.
The Ravens have now run off 17 consecutive victories since dropping their season opening game on the road to Windsor.
Lakehead 70 Windsor 64
Lakehead is one step or should I say win away from grabbing a share of the OUA West lead with little time remaining in the season. The Thunderwolves will look to go for the sweep of Windsor as they defeated the team they're chasing for the lead in the OUA West by 6 points on Friday night.
It was a tough grind out win for Lakehead, as neither team shot a good percentage from the field (35.8% Windsor, 34.3% Lakehead), but Lakehead's ability to win the rebounding battle (43-35 Lakehead) led to 20 second chance points giving them the edge in this one.
A game-high 17 points from Ryan Thompson and a double-double from Yoosrie Salhia of 13 points and 15 rebounds carried the load for Scott Morrison's bunch.
The rematch is tomorrow night; it will be interesting to see how Windsor responds.
 Manitoba 83 Saskatchewan 74
Manitoba got the upper hand in round one of their two game mini series with a 9-point win over the Huskies. In the process the Bisons took hold of a share of the top spot in the Prairie Division tying Alberta with 28 points.
Manitoba dominated the glass winning the rebound battle 59-41 and also forced 23 Huskies turnovers, which turned into 32 of the Bisons points.
Kevin Oliver had a double-double of 12 points and 11 rebounds and Stephan Walton added a game-high 20 points for Manitoba in the win.
Winnipeg 68 Alberta 55
The University of Alberta drops one on the road in one of the toughest places to visit in the country. The Wesmen very Seattle Seahawk-like, they boast an 8-3 record at home and just 4-5 on the road.
The Winnipeg upset over #7-ranked Alberta allowed Manitoba to sneak into a share of the top spot in the Prairie division. Last year's CIS Nationals runner up are 3-1 without star Jordan Baker, but picked the wrong time to suffer a loss.
Four Wesmen had double-figure scoring nights led by Andrew Cunningham and Travis Krahn who dropped 14 points each.
The two teams will do it again on Saturday night.
Lethbridge 93 Regina 91 OT
Lethbridge led by as many as 12, but needed overtime to put away Regina for their ninth win of the season. Fifth year guard Julian Spear Chief-Morris led the way for the Horns with 28 points, 7 rebounds and 2 steals.
Paul Gareau had a game-high 37 points and plucked down 12 rebounds for the Cougars in the loss. They also received a great effort from Connor Burns who posted 28 points and 15 rebounds.
Other Scores
UPEI 70 UNB 67
Ottawa 94 Toronto 51
Laurentian 95 Queen's 86
Calgary 88 Brandon 63
Mount Royal Victoria
UBC UNBC
UBC Okanagan Trinity Western
Thompson Rivers UFV
Tonight's Games
Laurier @ Western 3 P.M. EST
Waterloo @ McMaster 3 P.M. EST
Brock @ Guelph 3 P.M. EST
UQAM @ McGill 4 P.M. EST
Cape Breton @ UPEI 8 P.M. AST
Queen's @ York 8 P.M EST
Ryerson @ Ottawa 8 P.M. EST
Toronto @ Carleton 8 P.M. EST
Windsor @ Lakehead 8 P.M. EST
Calgary @ Brandon 7 P.M. CST
Saskatchewan @ Manitoba 8 P.M. CST
Alberta @ Winnipeg 8 P.M. CST
Victoria @ Mount Royal 7 P.M. MST
Lethbridge @ Regina 8 P.M. MST
UBC Okanagan @ Trinity Western 7 P.M. PST
Thompson Rivers @ UFV 7 P.M. PST
UBC @ UNBC @ 8 P.M. PST