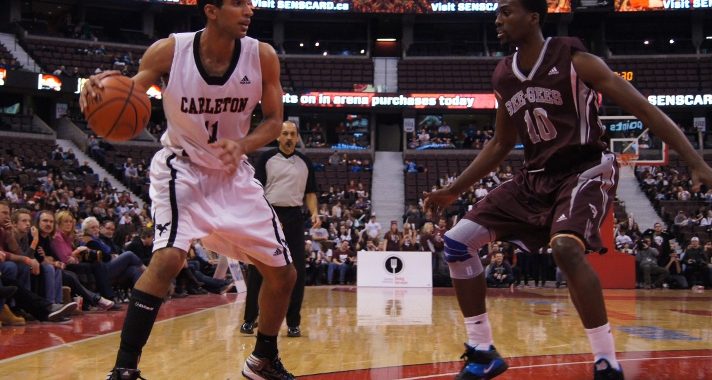 Carleton Locks Down On Gee-Gees In Second Half, Thomas Scrubb, Tyson Hinz Carry Ravens
OTTAWA, ON–Last night Scotia Bank Place hosted an instant classic between the Carleton Ravens and the University of Ottawa Gee-Gees in a seventh annual MBNA Capital Hoops game. There were 6,208 fans in attendance, giving Scotia Bank Place a lively and "into the game" type of crowd.
Hopefully this is a preview for the CIS Final 8 when it is hosted in Ottawa March 8-10, where the Ravens will have an opportunity to defend their national championship at home. However, in the meantime business was in order. The Carleton 63-58 win over the Gee-Gees was not a pretty one by any means and this puts their next opponents the York Lions in a terrible situation as Carleton Head Coach Dave Smart will look for better execution and higher effort levels from his players.
Both the Ravens and Gee-Gees came out looking like they had entered a three point shooting contest as they went back and forth in the first and second quarter. Overall, UofO played a strong first half and went into the locker room with a 34-28 lead at the break.
Star power was not in the spotlight of this game for either team. Instead, role players and guys off the bench contributed in big way to their respective teams.
Vikas Gill was a large part of the Gee-Gees great start on offense by setting up and knocking down perimeter jumpers to begin building upon his team's lead. Gill took uncontested shots and made smart decisions in half court sets, finishing with 12 points and five rebounds in the loss. Johnny Berhanemeskel, who is the team's leading scorer also pitched in with 16 points of his own.
Out of the gate, Gee Gees' star Warren Ward had a dim night going 2-17 from the field for six points in 35 minutes of play. He wasn't his usual self as he wasn't letting the game come to him, rather looking to score by any means necessary which translated into low percentage shots against a stingy Ravens defense. However, Ward did end up with a team-high 13 rebounds.
After a poor first half performance by the Ravens, they came out after halftime with a better defensive mindset and higher active level on the glass. Tyson Hinz came out strong and finished with a game high 16 rebounds to make up for a quite first half. Hinz finished with a strong double-double and took over in a stretch of the fourth quarter to help sustain the lead.
As if Ward wasn't having a tough night as is, Ravens coaching staff assigned Thomas Scrubb to guard him when playing man-to-man. Thomas is often called to guard the opposing teams' best player and consistently rises to the challenge. Scrubb's length and assertiveness on defense forces the ball handler in a pressure situation causing tough shot attempts.
Not only was he a machine on defense, he also finished the game with a game-high 19 points and six rebounds.
Better ball movement and fewer turnovers in the second half helped the Ravens take their first lead of the game and pull away by the possession. This recap cannot be complete without mentioning a solid performance off the bench by Kewyn Blain, looking like the future of  CU's guard play.
"I see how hard coach is on Phil and he's one of the top players in the country…I want to get there too," Blain commented in the post-game.
In Carleton's last meeting against York, the Ravens put a beating on the Lions, their next game will be no different as they look to learn and make up for their performance tonight.
NPH Top Performers
Carleton
Thomas Scrubb- 19 points, 6 rebounds
Tyson Hinz- 15 points, 16 rebounds
Kewyn Blain- 11 points
Phillip Scrubb – 9 points, 4 assists
Ottawa
Johnny Berhane- 16 points, 4 rebounds, 2 assists
Gabriel Gonthier-Dubue- 13 points, 6 rebounds
Vikas Gill- 12 points (4-6 3P)
Warren Ward- 6 points, 13 rebounds, 3 assists