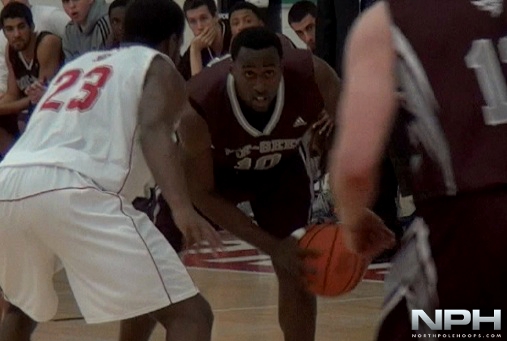 Warren Ward Shines Bright as Ottawa Gee-Gees Handle York
TORONTO, ON–On the Ottawa scene, they call him Warren "Worldwide" Ward. On Twitter, he goes by "@Warrens_World10." In reality, it was Warren's World last night as the Ottawa Gee-Gee's took care of York U 93-74.
Warren Ward was nothing short of spectacular, registering 27 points, seven rebounds, six assists and three steals on 10/19 from the field including 4/7 from deep and perfection from the charity stripe (3/3 FT).
The best part of Ward's performance? He did it with in himself as he let the game come to him; Ward did not force shots and did not disrupt the offense.
"We definitely used the pre-season to get the guys together, we have a great recruiting class and definitely excited about how things are going…getting Warren Back is a blessing for our team," Johnny Berhane told NPH in the post-game.
Berhane also had himself a strong night registering 22 points, five rebounds and five assists including 5/11 from deep. Gabriel Gonthier-Dubue was a force inside tallying 18 points, seven rebounds and three assists on 6/10 FG.
Ottawa has January 23 circled in their calendars as the Gee-Gees look forward to the battle of Ottawa against #1-Ranked Carleton at Scotia Bank Place.
"We respect them, they are the team that everyone wants to compete against, it's going to be a great battle. It's crazy how strong the OUA-East has become, so every game is going to be a grind!" Berhane explained.
"I'm always looking forward to Carleton, should be a good game. I didn't get to a pay in it last game…we lost by 40 but hopefully this year we could have a better outcome," said Ward.
We attack to find and play defense, that's it. That's what we do every single game, it doesn't change for who we play. I don't see Kobe Bryant on their team, so we don't have anything to worry about," continued Ward, confidently.
For York, a bright spot was the freshman out of Mississauga, 6'5 Daniel Tulloch, who displayed a combination of raw athleticism and some offensive versatility. He played both ends of the floor and posted team-high 25 points, eight rebounds , two block and three steals on 10/13 FG.
David Tyndale and Aaron Rados chipped in with 15 and 14 respectively.
With the victory, Ottawa moves to 8-1 on the season, as York falls to 4-5. The Gee-Gees will now play Laurentian, while it doesn't get easier for the Lion with the Carleton Raven visiting.
With the second half of the CIS season well under way, things are heating up as teams are jockeying for playoff position. Every game means something on their roads to the national championship.
NPH Top Performers
Ottawa
Warren World- 26 points, 7 rebounds, 6 assists, 3 steals
Johnny Berhane- 22 points, 5 rebounds, 5 assists
Gabriel Gonthier-Dub- 18 points, 7 rebounds, 3 assists
York
Daniel Tulloch – 25 points, 8 rebounds (10-13 FG)
David Tyndale- 15 points, 4 rebounds, 4 assists
Aaron Rados- 14 points, 5 rebounds
Akeem Isaac- 11 points