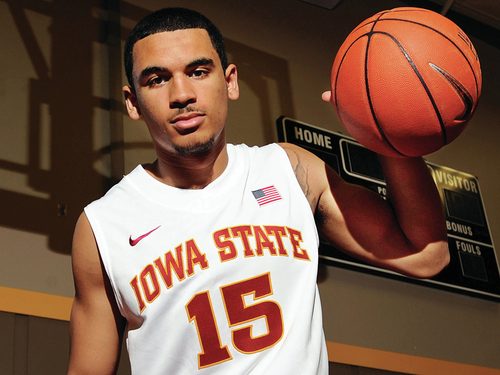 Opening his first diary entry for the new year, Naz Long is a Canadian point guard at Iowa State U of the BIG 12 conference. If you've been following along on NPH, Long should be no stranger to you. He will be taking you through his freshman journey as a student-athlete in the NCAA, through the ups and downs. Here we go…
First of all I'd like to introduce myself. My name is Nazareth Mitrou-Long but I go by Naz, was born and raised in Mississauga, Ontario, a brother to nine siblings and a son to my biggest inspirations Georgia Mitrou and Jersey Long.
I'm very honoured to be an NPH diary holder. With this diary, I look to share my experiences with Canada & cyclONEnation!
As some of you may know, around this time (December) last year I made one of the biggest decisions of my life and that was to sign as a student-athlete to Iowa State University.
My experience here has been an amazing one, everything I expected and more. From the day I picked up a basketball I fell in love, I truly could not see myself without this sport growing up. When things got more serious with basketball and I realized this sport could bring me to places like Iowa State, I understood I had to dedicate myself and my time to this game.
Being at ISU for about five months now, I truly understand the definition of hard work. I thought I was working pretty hard being at the schools I've been at, but the work ethic you need at a D1 school is on another level.
Waking up knowing you're destined to get better is a great feeling, especially when you are surrounded by a great group of guys like I am, my cyclone squad. Having six seniors on the squad is nothing but a positive thing because I get to learn from six different guys who have been in the position I am in now four years ago; they are veterans of the collegiate level.
Another person I go to whenever I need any advice is my big bro Melvin Ejim. Not only does Melvin help me on the court, he's an inspiration off the court with all the academics accolades he's received, seeing that makes me strive to be a better person on and off the court.
Many people ask me if I am happy with my decision to attend ISU and my answer has always been yes due to the fact that everyday I have an opportunity to take steps forward with people who are helping me do exactly that. From waking up no later than 5:45am to two-a-days with extra work in the night time, if you want something you have to go and get it, it will never just miraculously come to you.
To conclude my first diary entry I want to say I am happy to be a cyclone and will continue to grind everyday. For those who get to read this, nothing but love & keep working!
– Nazareth J. Long.
[youtube nx_MBZ-Eyqk]