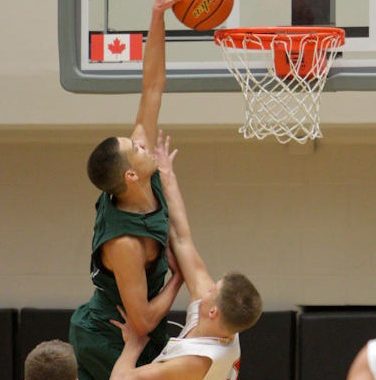 Jadon Cohee Explodes for 44 Points…Who Else is in the British Columbia Discussion?
Langley, BC – We're only a week into the BC Boys AAA Basketball season, and already we have witnessed a number of impressive individual scoring outputs.  Sunday night, at the finale of the 2012 Tsumura Basketball Invitational, we saw 2014 Walnut Grove guard Jadon Cohee go off for 44 points against the #5 ranked WJ Mouat Hawks in a lopsided 82-58 victory.
At the half, the 6-4 Cohee was putting together an efficient game – 17 points on 6-9 shooting, 3-5 from three and 2-2 from the line – but his Gators only led by two, 32-30.
With the rest of his team struggling from the field, Cohee put the Gators on his back, pouring in 27 of his team's 50 second half points en route to a runaway Walnut Grove victory, and a game high 44 points on 15-24 from the field, 4-9 from three and 10-10 from the line.
The explosive Cohee – who this week received his first NCAA Division I scholarship offer, from The University of Portland Pilots – scored primarily off the dribble, shedding defenders with  a crossover then launching a quick jumper or getting to the hoop. Although the form on his jumper is unorthodox, he is able to get it off quickly and with accuracy.  Cohee also looked comfortable attacking the rim, both in half court and in transition, and twice finished off transition opportunities with aggressive dunks: the first a two hander off a steal; and the second, a beautiful left-handed finish on a defender.
For Mouat, 2014 forward Tristan Etienne finished with team high 12 points (6-7 from the field) and 10 rebounds. The silky smooth 6-9 Etienne – who has also drawn interest from NCAA Division I programs, including the University of Washington – seemed to be able to get into the lane at will, and although he played over 32 minutes in this game, there were long stretches where he would go unnoticed. With Etienne's combination of size, skill and toughness, it would be nice to see be more aggressive at the offensive end.
As mentioned at the top, we've already seen some impressive scorers early in the season: Cohee, Churchill's Mindy Minhas, and St. George's Drew Urquhart are the three that we have seen in person that have really stood out.
Drew Urquhart may be the most gifted scorer of the group, who at 6-8 mixes impressive handles and a beautiful jumper with an improving post game; Mindy Minhas seems to have a knack for the basket and a scorers mentality, staying aggressive and scoring in a number of different ways; and Jadon Cohee, who is by far the most aggressive and athletic of the three.
There seems to be a hot topic in the air regarding the best in BC. Interestingly, arguably two of the top prospects in the province are 11th graders; Jadon Cohee & Drew Urquhart. But the question is, who's better?
The NPH team has heard from multiple sources including players, fans, coaches and parents about who is the best. These two names consistently pop up.
Please weigh in with comments and thoughts; who else is in the mix?
Churchill and St. Georges are both in action at this week's Telus Basketball Classic, and next Tuesday (December 11th) St. Georges will travel to Langley to take on Walnut Grove at 7pm.