Nick De Palma Game-High 31 Lifts CPA Over Horton in Halifax Grammar Classic!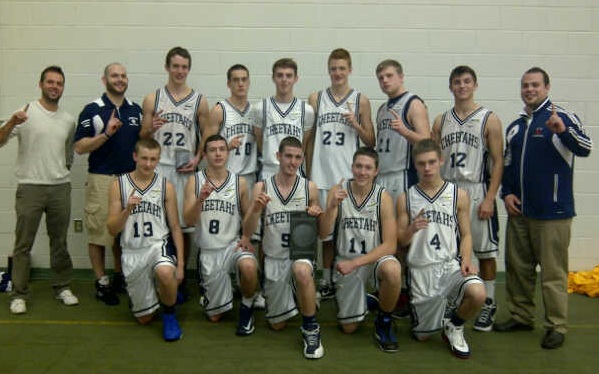 HALIFAX, NS–The Halifax Grammar Classic ended with the same result as last year, with a Charles P. Allen victory in the championship game.  The CPA Cheetahs defeated the Horton Griffins 84-76 to claim their second Halifax Grammar Classic banner in as many years, behind Nick De Palma's game-high 31 points.
When asked how it felt to win the tournament in back to back years, tournament MVP Nick De Palma responded, "It always feels good to win a tournament, and win the championship in a hard fought game."
"I'm sure everyone on the team enjoyed that win and it also gives us a little confidence boost and shows that we are able to play at that level."
CPA advanced to the final after defeating Sydney Academy with ease in the semi-finals. They faced a tough team in Horton who came back from being down against the home team, Halifax Grammar, in the other semi-final.
De Palma went to work early posting 15 points at the half time break, including three triples.  6'5 Bradley Fuller who was a force for the Griffins in the semi-final scoring 30 points, picked up two fouls in the first quarter and didn't return until the second half. Fuller finished with 17 points.
CPA led 38-35 at halftime.
Both teams would continue to trade baskets in the second half all the way up until midway through the fourth quarter. One of CPA's main players, Kyle Mackinnon picked up a foul, and in frustration slammed the ball down earning him a technical foul on top of his original foul. That would be Mackinnon's fourth and fifth foul earning him a seat on the bench for the rest of the game.
Horton's Alex Thomas went to the line for four shots; he made CPA pay sinking three of them and cutting the Cheetah lead to one.
The CPA bench seemed to be extremely frustrated at times throughout the game and were near the tipping point but pulled it back in.  Nick De Palma spoke about the teams composure.
"A couple of the calls weren't going our way and a lot of us were getting frustrated but we came together and realized arguing and getting frustrated won't change anything."
The Cheetahs would rally and start to pull away late in the final quarter.  Nick De Palma made a huge three and extended the lead to nine with five minutes remaining. Cole Wood was effective in the post, rebounding and scoring put backs. The Griffins would bring the lead down to six but there wouldn't be enough time to erase the deficit, giving CPA gold.
In the third place game Halifax Grammar defeated Sydney Academy 69-68 with Patrick Morris hitting a buzzer beater shot to win the game.
NPH Top Performers:
CPA:
Nick De Palma – 31 points
Cole Wood – 18 points
Horton:
Alex Thomas – 25 points
Bradley Fuller – 17 points
Tournament MVP – Nick De Palma – CPA
Tournament All-Stars:
Alex Thomas – Horton
Bradley Fuller – Horton
Cole Wood – CPA
Matt Farrell – Sydney Academy
Patrick Morris – Halifax Grammar
Tournament Defensive Player – Mikey Fraser – Halifax Grammar