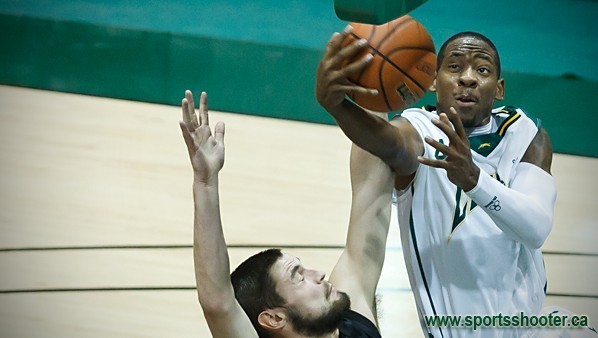 Regina Cougars Upset #5 Ranked Saskatchewan Huskies
NPH Top Performers
Regina Cougars
Frank Brown – 28 Points, 8 Rebounds, 1 Assists, 2 Steals
Brendan Hebert – 18 Points, 4 Assists, 1 Steal
Paul Gareau – 12 Points, 4 Rebounds, 2 Assists, 2 Blocks, 3 Steals
Darius Mole – 14 Points, 1 Rebound, 6 Assists, 1 Block
Saskatchewan Huskies
Stephon Lamar – 28 Points, 5 Rebounds, 3 Assists, 3 Steals
Ben Baker – 26 Points, 4 Rebounds, 4 Assists, 6 Steals
Matt Forbes – 18 Points, 7 Rebounds, 1 Block, 1 Steal
Regina, SK – Frank Brown. That's the simple answer to the question that we are all asking today: How did the Regina Cougars take down the Saskatchewan Huskies, the CIS' number five ranked team in the country? Brown, the 6'1 Phoenix College transfer, started the game on fire, connecting on his first four three point attempts on the way to 14 first quarter points. However, Brown was not alone and the Cougars rode their hot shooting to a 95-90 win Thursday night.
As a team, Regina shot just over 60% (34-56) from the field and 50% (10-20) from the three point line, and were able to build enough of a cushion to hold off a late 19-4 run by Saskatchewan. It was not all positive for the Cougars, however, as they committed 32 turnovers for the game, shot poorly from the line (17-27; 63%) and gave up far too many second chance opportunities (21 offensive rebounds allowed).
The Cougars also received contributions from third year guards Brendan Hebert (6-7 from the field and 3-4 from three), and Darius Mole (5-10 from the field and 3-6 from three). The 6'1" Mole, who missed the entire 2011-12 season with a knee injury, was aggressive on both ends of the court and showed off an improved outside shot. Mole finished the game with 14 points and a team high 6 assists in just 21 minutes off the Regina bench.
The Saskatchewan Huskies, who looked out of sorts all night, were led by San Diego City College, and former Pacific University point guard Stephon Lamar.  Lamar, who was able to get to the rim at will, finished the game with 28 points on 8-20 shooting and 11-18 from the line, but also committed 9 turnovers.
The Huskies, who used a late run to make the final score respectable, trailed by double digits for most of the game and certainly did not live up to their preseason ranking. Saskatchewan played sloppy, disjointed basketball, managing just 9 assists for the game, and were unable to take advantage of numerous second chance opportunities and Regina turnovers. The Huskies shot a miserable 7.1% (1-14) from the three point line, and missed 15 of their 42 free throw attempts. Saskatchewan's bench was also a non-factor, contributing just 4 points and 4 rebounds.
The 1-0 Regina Cougars will now travel to Saskatoon for the rematch, Saturday night at the PAC.